Tri-C Earns Third National 'Voter Friendly Campus' Award
College is one of 258 campuses to earn distinction for 2023-2024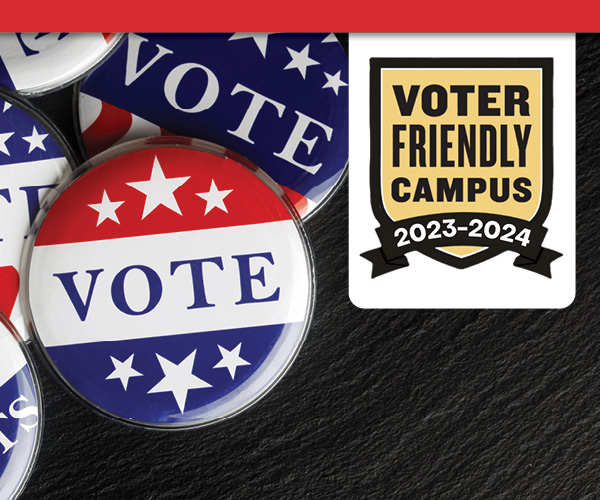 Cuyahoga Community College (Tri-C®) continues its national status as a "Voter Friendly Campus," achieving its third consecutive designation for 2023-2024.
The honor is a culmination of a two-year cycle of planning and year-round Promote the Vote activities at the College, led by Tri-C Government Relations with support from students, faculty and staff.
"We know that 85% of our students remain to live and work in the region — so it is a basic tenet of the College to help prepare our students to serve as stalwart community stewards of civic engagement," said Katie Montgomery, director of Government Relations at Tri-C. "In addition to mentoring students serving in our Democracy Fellows program with the Campus Vote Project, just over 100 students, staff and faculty joined Tri-C's civic engagement activities in 2022 alone."
Overall, 258 campuses in 38 states and Washington, D.C., were recognized for their efforts to develop a culture of democratic engagement. Tri-C previously earned the two-year honor in 2019 and 2021.
The Voter Friendly Campus project is designed to help students overcome barriers to participating in the political process annually and establish civic habits that last a lifetime. It is sponsored by the Fair Elections Center's Campus Vote Project and the National Association of Student Personnel Administrators.
"Motivating students to vote is woven into the Tri-C experience," Montgomery said.
A team of 100 students, faculty and staff work with the College's Government Relations office to offer voter engagement programs.
Last year, the College debuted a new, nonpartisan voting anthem written by gospel artist Corey Bapes with input from Tri-C students and staff serving on the College's Democracy Fellows team. "Rock The Polls" became the overarching theme of the efforts at Tri-C and across student dance challenges on campuses across the nation.
At the center of Tri-C's peer-to-peer voting efforts is "The Voting Experience," an annual voter education event for students, by students. The award-winning program provides an educational model that is fun and engaging and helps educate the campus community about the voting process. The program is led by students the College selects to serve as Government Relations Democracy Fellows.
Tri-C also is one of 31 colleges and universities that made up the inaugural cohort of Codesigner Campuses for "Ask Every Student," a project of the National Resource Consortium on Full Student Voter Participation. "Ask Every Student" strives to achieve 100% college student participation in elections.
March 28, 2023
MEDIA CONTACT: Anthony Moujaes, 216-987-3068 or anthony.moujaes@tri-c.edu