Tri-C Votes
2022 is a Midterm Election year.
In a democracy, your vote is your voice. Tri-C is proud to be a nationally ranked institution in Student Voter Engagement, and we work to give you all the tools needed to put your voice to use. 
It's official - There will be two Primary Elections in Ohio in 2022
As Ohio works out redistricting maps, elections related to those areas are on hold and won't be on the May 3 ballot. There will be a second Primary Election for Ohio State House, Ohio State Senate, and Ohio State Central Committee contests at a date to be announced.
First up: The May 3 Primary Election
Issues and Candidates will populate ballots for the 59 cities of Cuyahoga County.
This Primary will decide final party candidates for the following offices, advancing them to the Nov. 8, 2022 General Election:
Federal (U.S. Senate; Congressional Districts 7 & 11 in Cuyahoga County)
Statewide (Governor & Lt. Governor, Attorney General, Auditor, Secretary of State, Treasurer, State Supreme Court)
County (County Executive; County Council Members - Odd-numbered Districts only)
Judicial Party candidates & Democratic County Central Committee members


In addition, 13 cities in Cuyahoga County will have 20 issues on the Primary ballot - ranging from zoning changes and levies to charter amendments and liquor permits. FYI - You do NOT need to declare a party to vote on these Issues - simply request an "Issues Only" ballot.
Key dates for the May 3 Primary Election

Registration deadline: April 4
The deadline for voter registration is 30 days before the election. That makes April 4 the last day to register or update your voter registration for the Primary Election. #TriCVotes



Online registration: Register online at VoteOhio.gov. As long as you have the required info, you'll be done in just a few minutes!


USPS: Voter registration forms are available at all Tri-C Student Life offices, at public libraries and through the Cuyahoga County Board of Elections website. Visit the Board of Elections site to print the form.
Did you know ...
That there are three ways to vote? What's YOUR voting plan?



Early Voting: Vote in person at the Cuyahoga County Board of Elections (BOE), located at the corner of E. 30th Street and Euclid Avenue in downtown Cleveland. Free parking available in the back lot.

Vote by Mail: Request your ballot from the BOE now through noon on April 30. Complete your ballot and return it by mail (postmarked by May 2) or drop it in the BOE drop box by 7:30 p.m. on Election Day (May 3).

Voters who wish to vote by mail must complete and submit a ballot application. To ensure that your application is completed correctly, be sure to indicate the month of the election.

Voters who are interested in receiving a vote-by-mail ballot application can visit the County BOE website, call the BOE at 216-443-VOTE (8683), or obtain a paper ballot application at any public library and at many Tri-C campus locations.
All registered voters will be able to cast their vote among the finalists on the Nov. 8 General Election ballot.



Election Day voting: Vote in person at the polling location assigned to your address. Polls are typically located within a mile of your voter registration address, making it a fun day to gather neighbors and vote together! Polls are open from 6:30 a.m. to 7:30 p.m.
The Voting Experience
The Voting Experience: An Annual Student-Led Voting Event
Four Tri-C scholars — Ade A., Donte J., Jazmin J., and Samantha F. — are serving as Campus Vote Project Democracy Fellows at Tri-C for 2022. 
Our annual pop-up voting event, The Voting Experience, will once again be held, launching on Constitution Day (Sept. 17), with new student-led videos added through National Voter Registration Day (Sept. 20).
Do you have questions about voting? Email katharine.montgomery@tri-c.edu in Tri-C's Office of Government Relations. 
Building a History
In 2021, four Tri-C scholars — Bri E., Eddy C., Judy N., Kenzie B. and Paige R. — served as Campus Vote Project Democracy Fellows. See the work of the 2021 Cohort here.  Plus, you can still visit The Voting Experience 2021 online and enjoy a project for students, by students. 
In 2020, four Tri-C students — Arwa E., Charese H., Dalu O. and Sebastian C. — served as Democracy Fellows through Tri-C's Government Relations office in conjunction with the Fair Election Center's Campus Vote Project. Our collective goal is to help support student voter engagement. Through a series of student-hosted videos, the 2020 Cohort helped peers learn everything needed to know in order to vote and raise your voice in our democracy. Revisit the work of the 2020 Cohort here.
Student applications for 2022 Democracy Fellows are closed
Interested in raising your voice for democracy? While applications are closed to serve as a nonpartisan Campus Vote Project Democracy Fellow at Tri-C in 2022, you can email Katie Montgomery, director of Government Relations, at katharine.montgomery@tri-c.edu for other ways you can help support democracy at Tri-C.
Register to Vote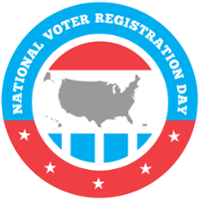 National Voter Registration Day (NVRD)
Tri-C is proud to be a national community partner in this annual effort to raise up voter registration in America. NVRD generally takes place the third or fourth Tuesday of September.
Click the box below to view key voting dates and learn how to register. We'll also guide you through the three ways to vote: Early In-Person Voting, Vote-by-Mail and Election Day In-Person Voting.