Director of Government Relations to Share College Successes on Voter Engagement
Conference presentation will examine ways to help students become confident voters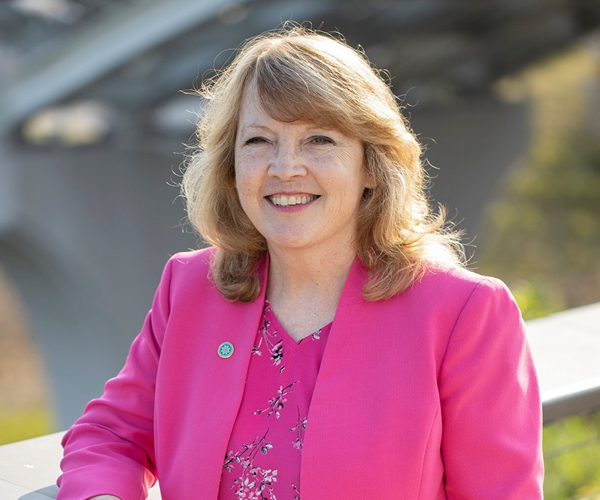 As part of a national conference on student voter registration, Katie Montgomery will share how Cuyahoga Community College (Tri-C®) helps young people develop their sense of community and civic duty.

Montgomery, director of the Office of Government Relations at Tri-C, will serve as a panelist at the 2023 Civic Learning and Democratic Engagement Meeting from May 31-April 2. She will join four national partners in student voting engagement on the panel: Students Learn Students Vote (SLSV) Coalition, Fair Election Center's Campus Vote Project, ALL IN Campus Democracy Challenge, and NASPA.
The conference is hosted by the National Association of Student Personnel Administrators (NASPA).

"Helping students become civically engaged and confident voters not only strengthens their voices in our democracy but also leads directly to confident, engaged community leaders," Montgomery said. "We've been told that individuals who create a voting plan are 19% more likely to vote. We will be sharing two takeaway tools from Tri-C's annual civic engagement event called The Voting Experience. We're proud that The Voting Experience is part of the Ask Every Student national toolkit for student voter engagement."

Montgomery will discuss how Tri-C helps students make a voting plan they can share with friends or family.

A team of 100 students, faculty and staff work with the College's Government Relations office to offer voter engagement programs.

Last year, the College debuted a nonpartisan voting anthem written by gospel artist Corey Bapes with input from Tri-C students and staff on the College's Democracy Fellows team. "Rock the Polls" became the overarching theme of Tri-C's efforts and student dance challenges on campuses across the nation.

At the center of Tri-C's peer-to-peer voting efforts is The Voting Experience, an annual voter education event for students by students. This engaging, award-winning program helps educate the campus community about the voting process. Working in conjunction with Campus Vote Project, the College selects student leaders to serve as Democracy Fellows at Tri-C

Tri-C is one of 31 colleges and universities that made up the inaugural cohort of Codesigner Campuses for Ask Every Student, a project of the National Resource Consortium on full student voter participation. Ask Every Student strives to achieve 100% college student participation in elections.
May 31, 2023
MEDIA CONTACT: Anthony Moujaes, 216-987-3068 or anthony.moujaes@tri-c.edu