The Skills to Succeed Campaign is a defining moment in our history.
As the largest campaign to date, it will secure the College's legacy of promoting individual development and improve the overall quality of life in our multicultural community.

With the priorities identified in The Skills to Succeed Campaign, Tri-C is developing the future leaders and problem solvers of tomorrow.
Imagine Our Future
The Skills to Succeed Campaign focuses on unlocking the potential of our region's overlooked talent by preparing all students for jobs of the future. Grounded in the challenges of unemployment, the skills gap, and racial inequities, this effort connects with residents of Northeast Ohio who are underrepresented in the workforce.
Together, with the support and commitment of our partners, alumni and friends, we can achieve this campaign's full promise: to meet people where they are, ensure workforce education is affordable and attainable, prepare people for life-changing work, and connect students to employers in key industries.
The Strategy: Building a Skilled and Available Workforce
In 2019, Tri-C collaborated with community partners to set a strategic vision that would help Cleveland thrive. These four funding pillars champion an education system focused on accessible, affordable education: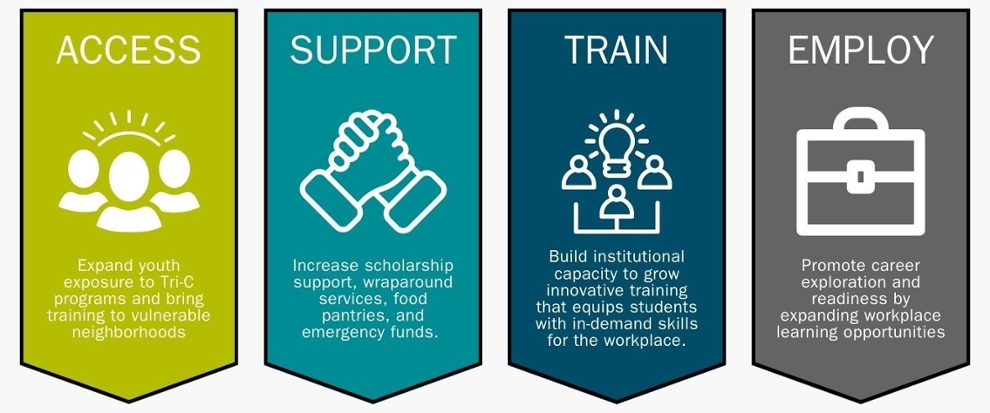 Learn more about each funding pillar's priorities for impact:
To date, The Skills to Succeed Campaign has raised over $50 million to support student access, equity and success.
An investment in this campaign is an investment in the systems and solutions that advance an inclusive economy.
The Skills to Succeed Campaign ensures that no student is excluded or overlooked. There is still time to be a part of this transformative moment in Tri-C's history, and we hope you'll consider joining us. Contributions are still urgently needed to address our students' most critical needs, especially scholarships and student emergency funds.
Donations to Tri-C Foundation's The Skills to Succeed Campaign directly impact the lives of our students and the future of our community. 
We are grateful to our donors who are making this historic impact possible. View the complete list of donors.