Tri-C Foundation Announces $2 Million Gift From KeyBank
New initiatives will expand accessibility and innovation in workforce training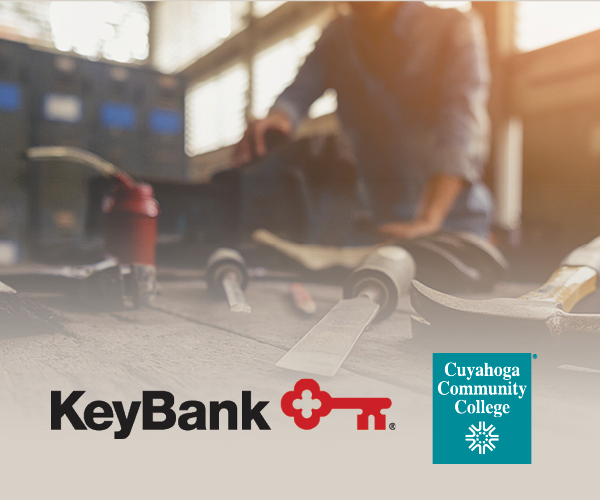 KeyBank and the Cuyahoga Community College (Tri-C®) Foundation have announced a $2 million grant from the KeyBank Foundation to grow innovative, accessible workforce training.
This commitment will fund crucial steps toward addressing Northeast Ohio's employment and earnings gap. Tri-C's Workforce, Community and Economic Development (WCED) division offers more than 60 credit and noncredit training programs in high-demand fields that pay family-sustaining salaries. More than 75% of students in these programs earn low-to moderate-incomes and seek new career possibilities.
"We are so grateful for this significant investment from KeyBank to expand access to workforce training, especially for people from populations underrepresented in their chosen career path," said Megan O'Bryan, president of the Tri-C Foundation and vice president of development at the College. "This partnership will have direct, immediate impact on students and employers and fill a critical need through enhanced workforce preparation."
"Cleveland is our home and all of us at KeyBank are excited to partner with Tri-C on this innovative program that will have a transformative impact on Northeast Ohio's workforce and provide new opportunities to many in our region," said Kelly Lamirand, KeyBank Cleveland market president and commercial sales leader. "KeyBank is proud of our 30-plus year partnership with Tri-C, helping people in our community access education and reach their potential. Together, we are enhancing Northeast Ohio's economic vitality, and bringing hope and resources to the communities we serve."
KeyBank's investment will support core areas of growth within Tri-C's workforce training programs:  
Targeted recruitment with the aim to increase enrollment of individuals who are underemployed and underrepresented across key industries.

On-demand assistance to support students and make programs affordable.

Responsive curriculum innovation to address industry demands.

Job placement support and increased employer partnerships.
Tri-C and KeyBank's transformational partnership will ensure students secure meaningful employment with family-sustaining wages — a critical need throughout Northeast Ohio.
"Thanks to the generosity of KeyBank and the KeyBank Foundation, Tri-C can continue to eliminate barriers to success so that more members of our community can achieve the education needed to prosper," said Tri-C President Michael Baston. "When more people have opportunities to climb the ladder of success, the entire region benefits."
"Helping people achieve the skills, education and capabilities they need to succeed in current and future employment opportunities is a major focus of the work the KeyBank Foundation does in the communities we serve," said Eric Fiala, head of corporate responsibility & community relations at KeyBank. "We are thrilled to continue our long partnership with Tri-C and look forward to seeing the impact this investment will have in Cleveland and Northeast Ohio."
March 21, 2023
MEDIA CONTACT: Anthony Moujaes, 216-987-3068 or anthony.moujaes@tri-c.edu