Tri-C Westshore Campus Celebrates Grand Opening of Renovated Food Pantry
Dedication of pantry continues support for student success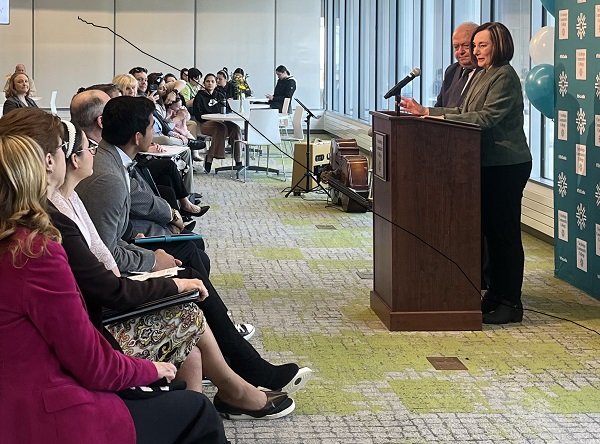 Students at Cuyahoga Community College's (Tri-C®) Westshore Campus needing food and other basic necessities have a new resource. Tri-C gathered with its community partners for the grand opening and ribbon-cutting of the newly renovated Food Pantry at Westshore on March 2, made possible by donors to the Tri-C Foundation.
The event featured remarks from donor Ann M. Frangos, Tri-C President Michael Baston and Westshore Campus President Scott Latiolais. Frangos has served on the Cuyahoga Community College Board of Trustees for the past four years.
Hunger remains a fundamental barrier to educational access and completion for a significant number of Tri-C students. The Pantry ensures students in need have access to food, essential resources and financial support in an open, welcoming space.
"We're fortunate to have caring, dedicated supporters like Ann and Lou Frangos," Baston said.  "Charitable investments to the Tri-C Foundation from these committed leaders support the solutions that address the impact food insecurity has on our students' success."
The Frangos' gift supports the Tri-C Foundation's efforts to ensure that each campus has adequate, accessible resources to address student food insecurity. Total commitments to meet this need have surpassed $2.1 million to support operations, capital and sustainability goals. Westshore Campus is the third campus pantry to be updated through philanthropic support.
The Greater Cleveland Food Bank provides fresh and nonperishable food items for the pantry. Raising Cane's Chicken Fingers restaurant in Avon also contributed to stocking the space.
"In a recent Tri-C survey, nearly two-thirds of students with food insecurity said they considered dropping out of college," Latiolais said. "No community, including ours at Westshore, is exempt from food insecurity, and we are grateful that the community joins us in ensuring that our most vulnerable students get help."
The Pantry is open Monday through Friday from 8:30 a.m. – 5 p.m. on the first floor of the Liberal Arts and Technology Building. Students can visit once per week.
Visit tri-c.edu/thepantry for more information.
March 02, 2023
MEDIA CONTACT: Anthony Moujaes, 216-987-3068 or anthony.moujaes@tri-c.edu