Presidential Scholarship Luncheon Raises $1 Million to Benefit Tri-C Students
Basketball legend Bill Walton headlined annual Tri-C Foundation event on Oct. 11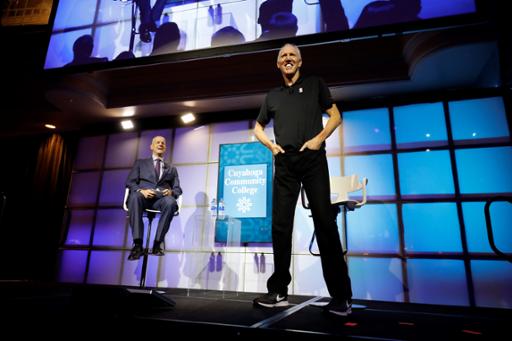 Give basketball legend Bill Walton credit for another slam dunk — this time for the benefit of Cuyahoga Community College (Tri-C®) students.
Walton helped the Cuyahoga Community College Foundation raise more than $1 million for Tri-C student scholarships by headlining the Foundation's annual Presidential Scholarship Luncheon.
The sold-out event took place Friday, Oct. 11, at the Renaissance Cleveland Hotel on Public Square. More than 1,000 people attended the luncheon, which was presented by PNC Bank.
"This event is about making an investment in the people of Northeast Ohio," said John Skory, chairperson of the Tri-C Foundation. "Our supporters make it possible for Tri-C students to pursue their ambitions."
Since its inception in 1992, the Presidential Scholarship Luncheon has raised more than $21 million to help students with financial need pursue higher education and achieve their academic and career goals.
Walton adds to the list of distinguished speakers to headline the event, joining fellow Hall of Fame athletes Earvin "Magic" Johnson (2015) and Hank Aaron (1997) as well as sports broadcaster Bob Costas (2008).
The towering center is one of only four players in the history of basketball to win multiple NCAA and NBA championships. Walton was named the nation's top collegiate player three times and claimed the NBA's Most Valuable Player award in 1978.
Following his playing days, he carried his on-the-court success into broadcasting and business careers. The transition forced him to overcome adversity. Grit and a positive outlook powered his journey.
The man who once stuttered so badly he struggled to say a simple "thank you" eventually was named one of the Top 50 sports broadcasters of all time by the American Sportscasters Association in 2009.
Walton later became volunteer executive chairman of San Diego Sport Innovators, a nonprofit business accelerator that drives growth in the city's vibrant sports economy by offering innovative programs and services for companies.
He's also active with many organizations and charities, author of the memoir Back From the Dead, and perhaps the world's biggest Grateful Dead fan.
Prior to the luncheon, Walton met with students from Tri-C's Metropolitan Campus. The group includes scholarship recipients and members of the College's nationally ranked basketball team.
"Bill's life is a lesson about what can be achieved through dedication and perseverance," said Megan O'Bryan, president of the Tri-C Foundation. "Hearing about his journey will no doubt inspire our students — and everyone at the luncheon — to push beyond what they thought was possible."
October 11, 2019
John Horton, 216-987-4281 john.horton@tri-c.edu