Presidential Scholarship Luncheon







2019 Luncheon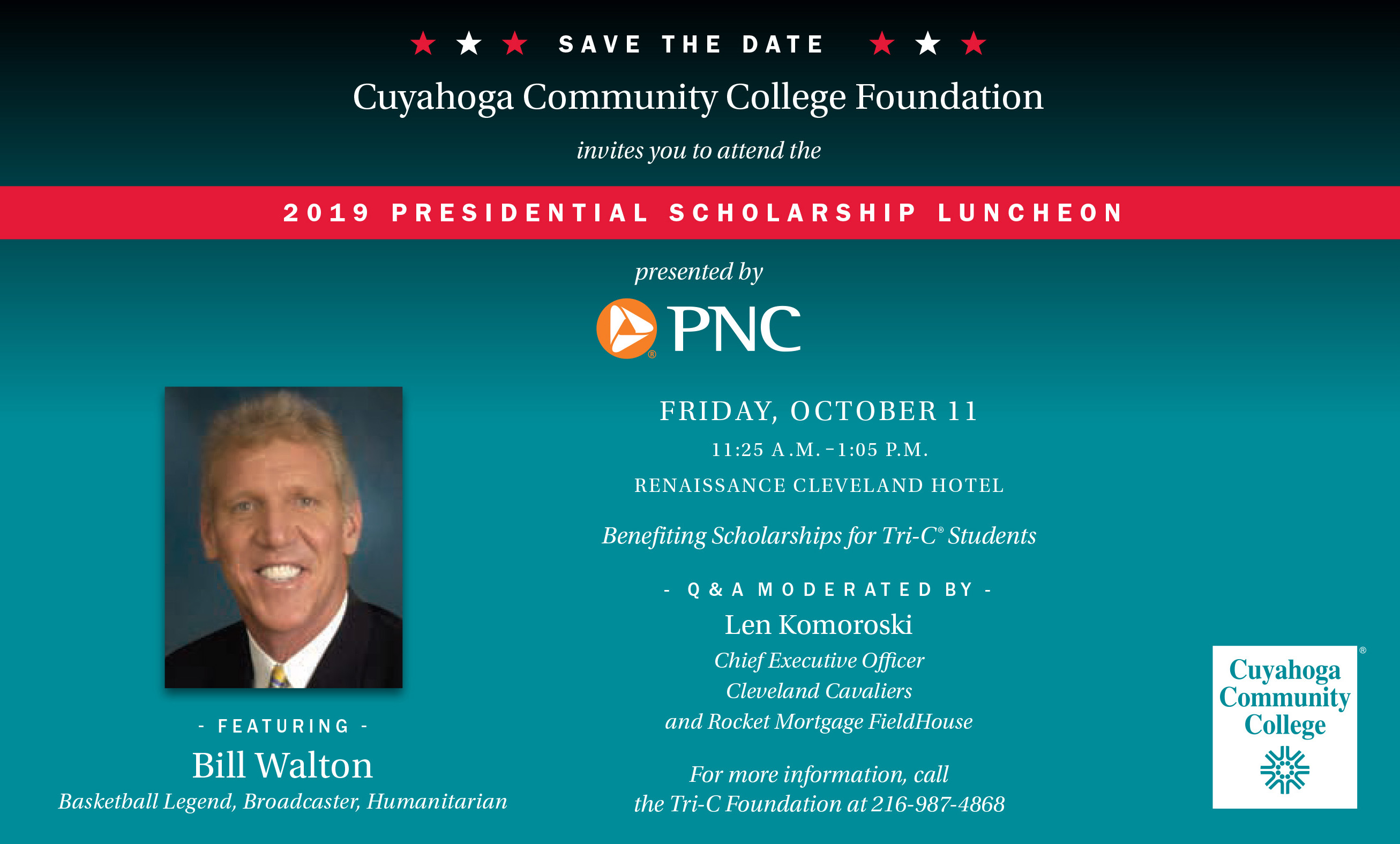 Bill Walton, Basketball Legend, Broadcaster and Humanitarian headlines 2019 Presidential Scholarship Luncheon, presented by PNC Bank
Basketball legend Bill Walton, who carried his on-the-court success into broadcasting and business careers, will be the featured guest at the Cuyahoga Community College Foundation's 2019 Presidential Scholarship Luncheon, presented by PNC Bank.
Walton is one of sports' most recognizable and beloved figures. From 1972 to 1974, he was the nation's top college basketball player at UCLA. Under legendary coach John Wooden, the team won two NCAA championships and had a record 88-game winning streak. He began his professional career in 1974 as the No. 1 pick in the NBA draft. He played on two NBA championship teams — the Portland Trailblazers and the Boston Celtics — and received innumerable awards. He is recognized as one of the 50 greatest NBA players of all time.
Throughout his life, Walton has faced devastating adversity. He has overcome tremendous obstacles both on and off the court, including a lifelong speech impediment, structural congenital foot disorders, incalculable orthopedic injuries and life-threatening, disabling and debilitating spine problems. He has undergone 37 orthopedic surgeries. 
On October 11, Bill Walton brings his inspiring story to Cleveland for the 2019 Presidential Scholarship Luncheon. Don't miss this thought-provoking and engaging event. 
To reserve your table or tickets, please click here. For more information, please call the Tri-C Foundation at 216-987-4868 or email foundation@tri-c.edu.
The Cuyahoga Community College Foundation Presidential Scholarship Luncheon is a premier event with a long tradition of raising critically needed scholarship funds for Tri-C students, helping them access education as they pursue the American Dream.

Since its inception in 1992, the luncheon has secured nearly $20 million, with proceeds benefiting scholarships that assist students with financial need in pursuit of education. A capacity crowd of over 1,000 community members attends the luncheon annually to hear a dynamic keynote speaker.
2018 PSL
In 2018, former secretary of defense and New York Times best-selling author Robert M. Gates entertained and enlightened luncheon attendees. Having served under eight U.S. Presidents and as president of Texas A&M University, he brought a unique perspective to the podium. Dr. Toby Cosgrove, executive advisor and former CEO and president of the Cleveland Clinic, moderated the session.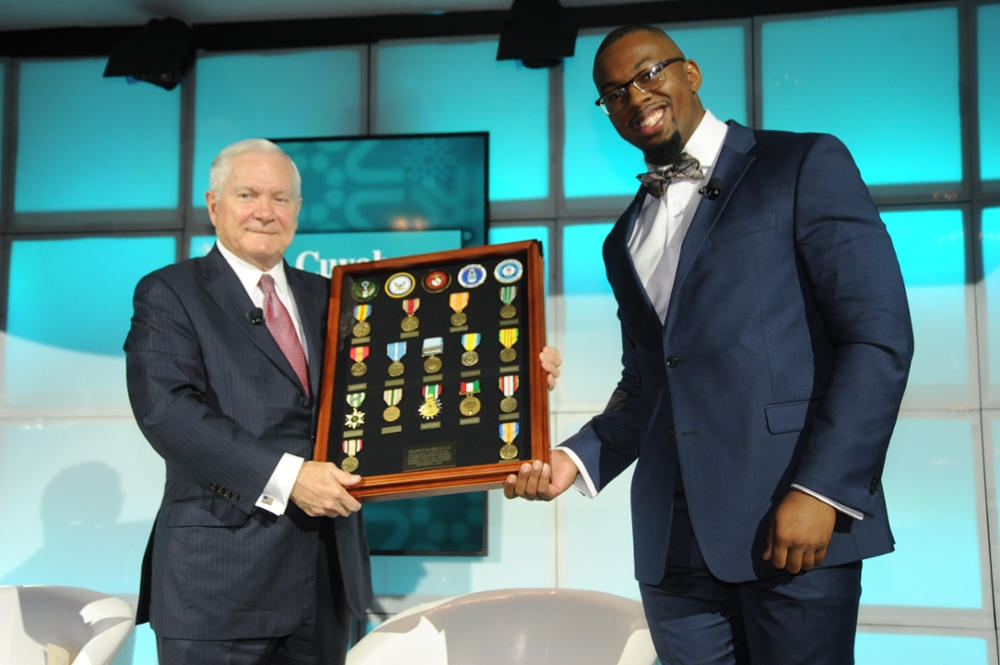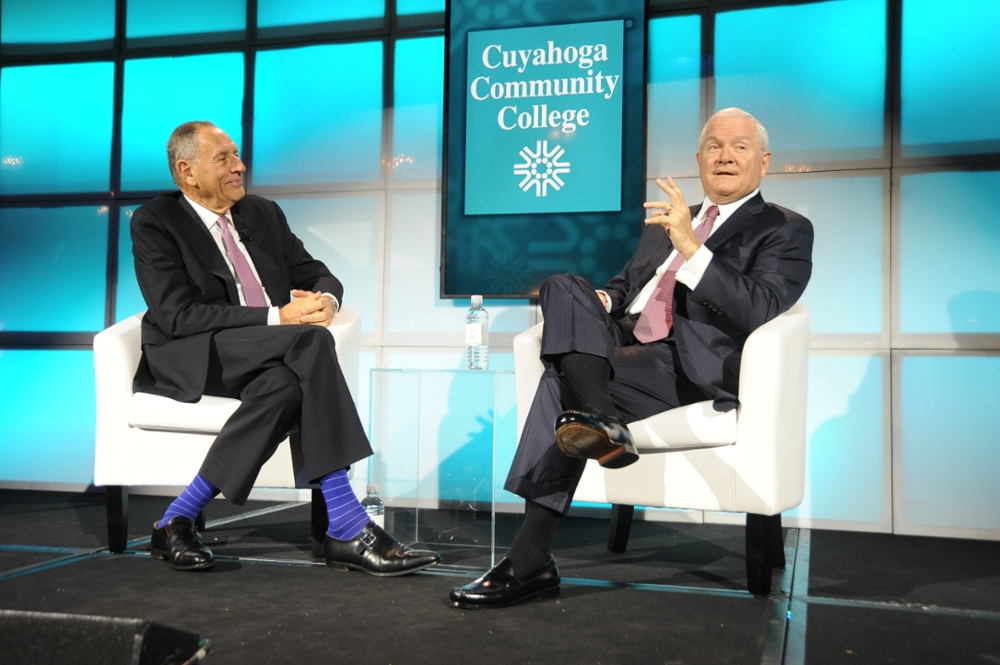 Past Presidential Scholarship Luncheon speakers:
Robert M. Gates (2018)
Octavia Spencer (2017)
Ted Koppel (2016)
Earvin "Magic" Johnson (2015)
President George Bush (2014)
President Bill Clinton (2013)
Madeleine Albright (2012)
The Right Honorable Tony Blair (2011)
Condoleezza Rice (2010)
George Stephanopoulos (2009)
Bob Costas (2008)
General Colin L. Powell, USA (Ret.) (2007)
Tom Brokaw (2006)
Tim Russert (2005)
Edward Norton (2004)
Peter B. Lewis (2003)
Oprah Winfrey (2002)
Sam Donaldson (2001)
Ed Bradley (2000)
Senator John Glenn (1999)
Cokie Roberts (1998)
Hank Aaron (1997)
Harry Belafonte (1996)
Maya Angelou (1995)
Mark McCormack (1994)
Robert Lewis (1992)
Thank you to all of our generous donors who supported our 2018 Presidential Scholarship Luncheon.