Presidential Scholarship Luncheon







Thursday, Oct. 20, 2022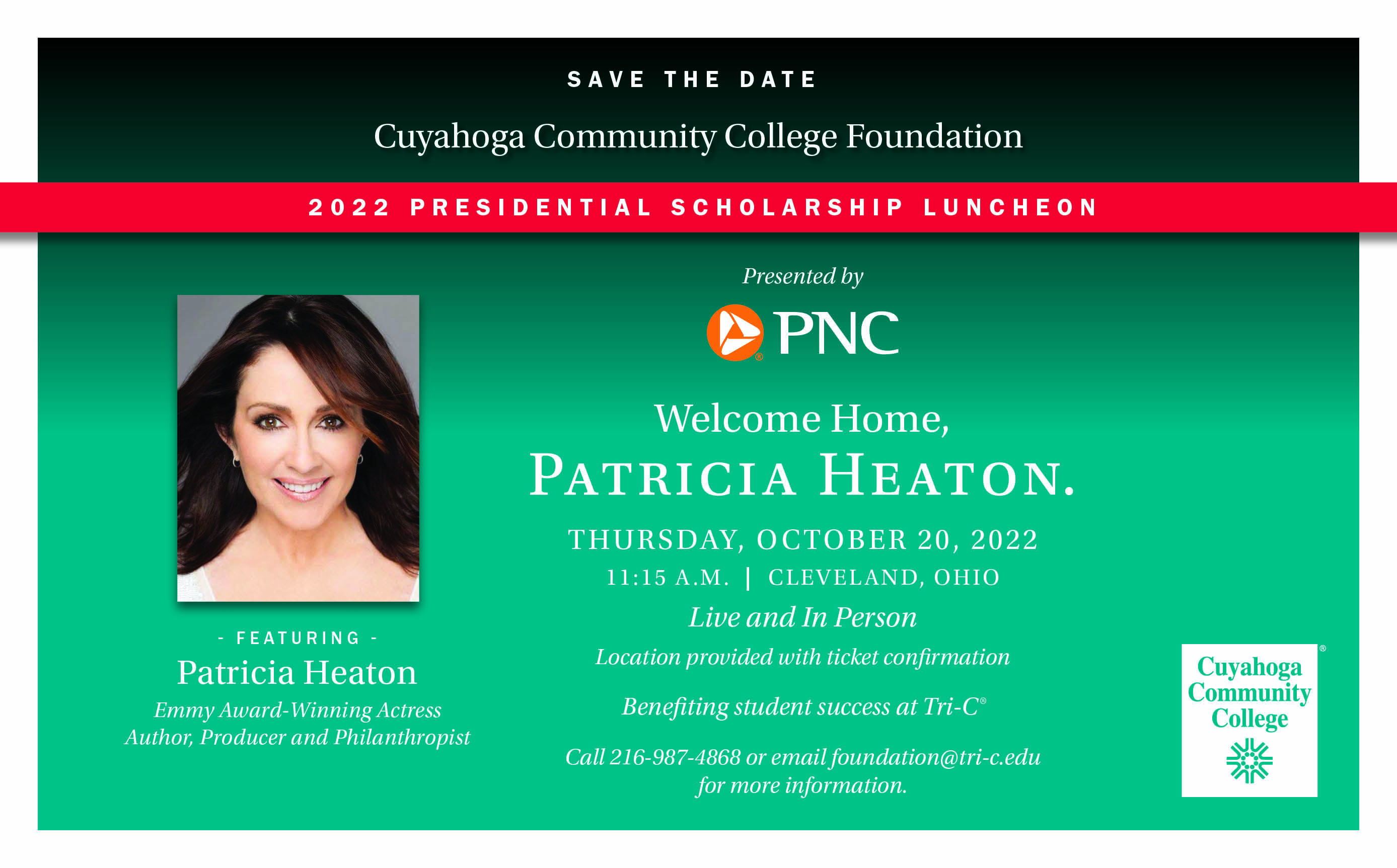 The Northeast Ohio roots run deep for three-time Emmy Award-winning actress, producer, bestselling author and philanthropist Patricia Heaton. Growing up in Bay Village, she attended St. Raphael and Bay High School, interned at a local news station and graduated from The Ohio State University.
One of television's most loved moms, Heaton has created memorable, lovable and relatable characters for the past 25 years. She is perhaps best known for her role as Debra Barone on the beloved series Everybody Loves Raymond, which ran for nine seasons. In 2018, she completed another nine-season run as Frankie Heck on The Middle.
Fresh off executive producing and starring in her own CBS series, Carol's Second Act, Heaton is currently living her own second act — both professionally and personally. She and her husband, Dave Hunt, have four grown children. Their production company, FourBoys Entertainment, recently completed work on the feature film Bob and Amy. Other projects include The Christmas Heart for the Hallmark Channel and the critically acclaimed Amazing Grace.
Heaton's extensive list of stage and screen credits includes Hallmark Hall of Fame's Front of the Class, the TNT/Neil Simon production of The Goodbye Girl, Sony's The Star and ABC's The Path to 9/11. Her feature film credits include Memoirs of an Invisible Man, Beethoven, New Age and Space Jam.
As headliner of Patricia Heaton Parties on Food Network, Heaton drew inspiration from her family and travels, inviting the audience into her home as she served up incredible, party-friendly foods.
Inspired by a mission trip to an orphanage early in her career, Heaton is an active philanthropist who uses her platform to raise awareness and financial support for poverty relief around the globe. She is the Celebrity Ambassador for World Vision, a humanitarian organization focused on relief, development and advocacy in the areas of clean water and education in nearly 100 countries.
Heaton has penned several books, including New York Times bestseller Motherhood and Hollywood: How to Get a Job Like Mine and Your Second Act: Inspiring Stories of Reinvention.
2022 event raises $850,000 to date to benefit students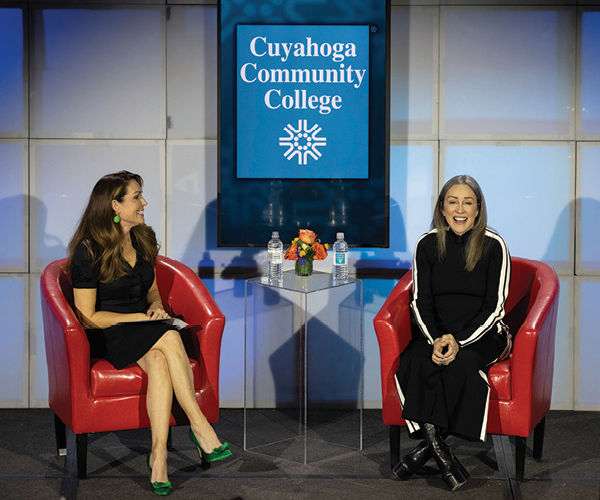 Emmy-winning actor and producer Patricia Heaton shared stories of growing up in Ohio, motherhood, and the individuals who inspired her as she helped the Cuyahoga Community College (Tri-C®) Foundation raise scholarship funds for students during its Presidential Scholarship Luncheon.
The Foundation's 2022 Presidential Scholarship Luncheon has raised $850,000 to date in critical funds to help Tri-C students with financial needs pursue higher education and achieve their academic goals.
Heaton, a Bay Village native, served as keynote speaker at the event, which took place Thursday, Oct. 20, at the Renaissance Cleveland Hotel on Public Square. The luncheon was presented by PNC Bank. Christi Paul, anchor of WKYC-TV's What's Now, moderated the discussion with Heaton. Paul recently returned home to Northeast Ohio after 20 years at CNN.
Since its inception in 1992, the Presidential Scholarship Luncheon has raised $23 million to help students with financial need pursue higher education and achieve their academic and career goals.
Past Presidential Scholarship Luncheon speakers:
The Right Honourable Theresa May (2021)
Bill Walton (2019)
Robert M. Gates (2018)
Octavia Spencer (2017)
Ted Koppel (2016)
Earvin "Magic" Johnson (2015)
President George Bush (2014)
President Bill Clinton (2013)
Madeleine Albright (2012)
The Right Honourable Tony Blair (2011)
Condoleezza Rice (2010)
George Stephanopoulos (2009)
Bob Costas (2008)
General Colin L. Powell, USA (Ret.) (2007)
Tom Brokaw (2006)
Tim Russert (2005)
Edward Norton (2004)
Peter B. Lewis (2003)
Oprah Winfrey (2002)
Sam Donaldson (2001)
Ed Bradley (2000)
Senator John Glenn (1999)
Cokie Roberts (1998)
Hank Aaron (1997)
Harry Belafonte (1996)
Maya Angelou (1995)
Mark McCormack (1994)
Robert Lewis (1992)