Events
4th Annual First Generation and Veterans Scholarship Luncheon
Please join us Tuesday, September 17, 2019 for the 4th Annual Benefit Luncheon for Tri-C's First Generation and Veterans Scholarships at Cuyahoga Community College, Jerry Sue Thornton Center, Ford Room.  Registration starts at 11:30 a.m and the luncheon noon-1:30 p.m.. All proceeds benefit the First Generation and Veterans Scholarship Funds in memory of Dr. Arthur J. Caliguire. 
The luncheon was established by Dr. Caliguire and his family to lessen the financial burden of our students as they continue their path toward completion.  A professor at the Tri-C Western Campus for nearly 30 years, Dr. Caliguire was also an administrator of the NATO Defense Schools under President John F. Kennedy and held leadership positions with the Cleveland Public Schools and the Cleveland Catholic Diocese.  
The Keynote Speaker is Eric S. Gordon CEO Cleveland Metropolitan School District.  Luncheon tickets $40 and requires registration.  Please register by September 6, 2019 as seating is limited.  For more information contact Scott Sterneckert at 216-987-4365 or scott.sterneckert@tri-c.edu.
Buy Tickets
The 2019 Presidential Scholarship Luncheon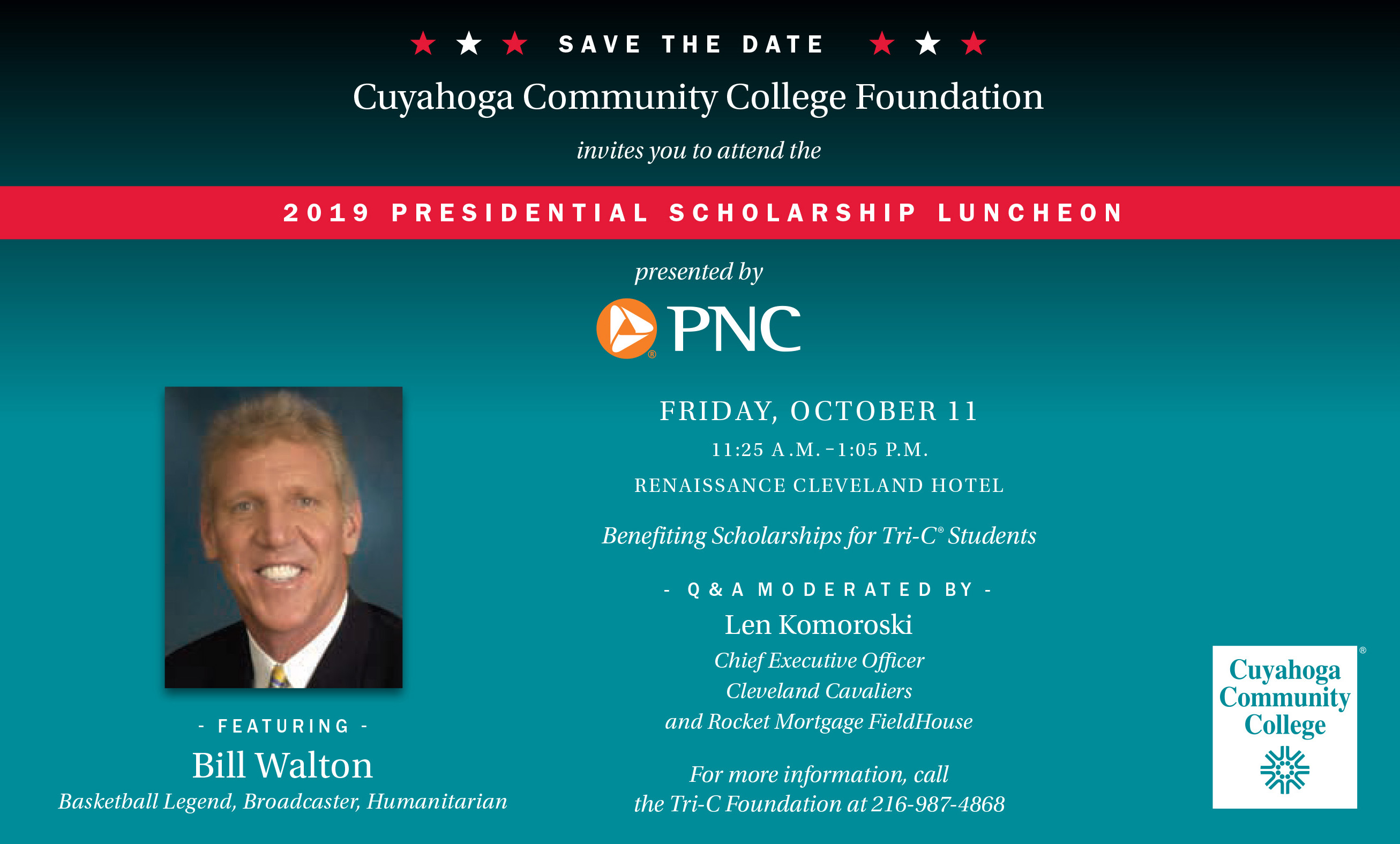 Bill Walton, NBA Legend, Broadcaster and Humanitarian headlines 2019 Presidential Scholarship Luncheon, presented by PNC Bank on October 11. 
The Cuyahoga Community College Foundation Presidentail Scholarship Luncheon is a premier event with a long tradition of raising critically needed scholarship funds for Tri-c students, helping them access education as they pursue the American Dream.