OACAC Articulation 2023

Registration is now open!
Event Details
Date:
Wednesday, Sept. 13, 2023
Location:
Cuyahoga Community College
Eastern Campus (View map)
4250 Richmond Road
Highland Hills, Ohio 44122
Parking information:
Parking is free and no pass is needed. Participants should park in the "back" of the campus in lots H1, H2, B1 or B2. Enter through the Jack, Joseph and Morton Mandel Humanities Center.
College Representative Info
College representatives can drop off college fair materials prior to checking in to the event. Drop off is at the entrance of the East Student Services building roundabout.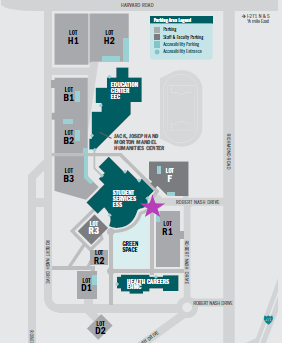 Agenda
8-9 a.m.
Check-in and Registration — Mandel Theatre Lobby
9-9:30 a.m.
Welcome Message — Mandel Theatre
9:45-10:30 a.m.
Breakout Session 1
Public School Update — Mandel Theatre
College Board — East Mandel Humanities Center (EMHC), room 122
OASFAA — Auditorium
ODHE — East Student Services (ESS), room 2101
Mini Tour 1: Jack, Joseph and Morton Mandel Humanities Program, Tri-C Honors Program and Visual Communication/Design Labs — Meet in Mandel Theatre Lobby
10:45-11:30 a.m.
Breakout Session 2
Community College, Regional Campus, Transfer Advocacy Session (Formerly Two Year Update) — Mandel Theatre
ACT — ESS 2101
OASFAA — Auditorium
Mini Tour 2: Plant Science and Hospitality Management — Meet in Mandel Theatre Lobby
Roundtable Discussion — EMHC 245
11:45 a.m. - 12:30 p.m.
Breakout Session 3
Private School Update — Mandel Theatre
College Credit Plus, EMHC 122
OASFAA — Auditorium
Mini Tour 3: Student Services and Amenities — Meet in Mandel Theatre Lobby
Roundtable Discussion, EMHC 245
12:30-1:15 p.m.
Lunch
College representatives — outside of the gymnasium on the first floor of ESS
High school counselors and others — Mandel Theatre Lobby
1-2 p.m.
College Fair — Gymnasium, first floor of ESS
Your Volunteer Team Leads:
Heidi Nicholas, (Heidi.Nicholas@tri-c.edu). Executive Director, Enrollment Management and Enrollment Operations
Karen Dickerson, (Karen.Dickerson@tri-c.edu).Campus Director, Enrollment Center (Westshore Campus)
2023 Host Schools: