Youth Pre-Apprenticeship
Earn $ while you Learn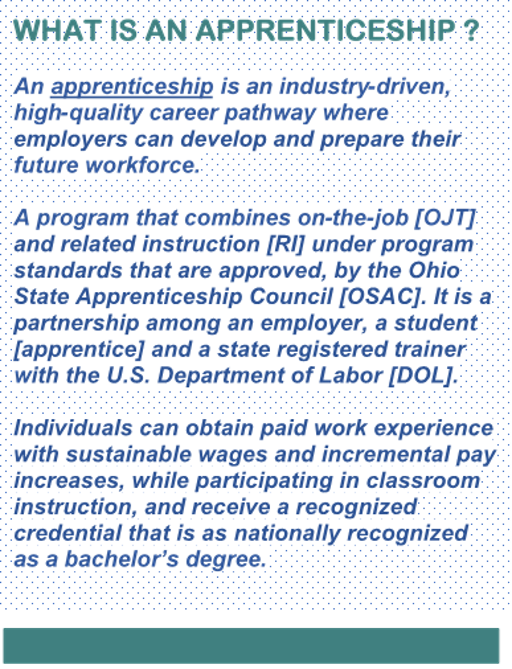 Industry Credentials = High School Diplomas 
The Manufacturing Technology Center's youth pre-apprenticeship programs are designed to prepare and provide high school students the work-readiness skills, confidence, and connections they need to enter and succeed in the workforce. These stackable certificates pathway into a state registered apprenticeship and/or Applied Associates degree.
Students receive exposure to STEM careers with high paying wages and are linked with employers right here in the Greater Cleveland region. Employers who are eager to hire qualified talent.
Tri-C's high school pre-apprenticeship programming provides academic knowledge, quality hands-on training, tailored to STEM careers and direct employment in various in-demand careers.
Tri-C has partnered with multiple local employers to provide experiential learning opportunities for our state certified pre-apprenticeships completers. Our employer partners understand that pre-apprenticeships are a tool to strengthen and diversify talent pools to fill entry-level positions. Creating a work environment that supports these workers and helps them succeed, is a sound business investment.
Benefits to Students:
Gain hands-on training and marketable technical skills from industry experts that employers need
Receive a state recognized-industry credential

State of Ohio Pre-Apprenticeship certification worth 12 points towards high school graduation
Satisfies the Ohio Means Jobs Readiness Seal requirements

College credit plus eligible [CCP]
Qualifies for waiver to Tri-C entry-assessment requirements
Certificates stack towards an Associates degree or registered apprenticeship
Start a high paying career with transferrable knowledge in less than a year
Professional seminar and wrap-around services:

Workforce readiness seminar
Resume writing
Interviewing tips
Professional development

Conflict management
Time management
Budgeting
Employer experiential learning opportunities:
Job Shadowing
Career exposure – guest speakers
Co-Op
Paid Internships
Workforce readiness seminar
Professional development

Resume writing
Interviewing tips
Conflict management
Time management
Budgeting
* Credits may be applied towards a registered apprenticeship or a degree or transfer to any Ohio public institution.
* Paid opportunities are not guaranteed, and are based on student attendance and performance.
What's in it for businesses and communities?
Finding, hiring and retaining high-quality employees is a monumental task. Industry-recognized
credentials help employers validate the knowledge and skills of potential employees and saves valuable time in assessing the skills of job applicants.
Why Tri-C?
Tri-C is committed to addressing the technical gap in this region by continuing to introduce and engage youth in grades nine through 12 in cutting-edge STEM instruction. Tri-C fosters strategic partnerships with programs specifically built around the needs of employers within the industry. Students learn new training systems that prepare them for the future workforce and the latest technologies. We offer many of the qualified, industry-recognized credentials for the demanding careers in Northeast Ohio and provide field experts as instructors to train and prepare students for the certification exams.