During my first 100 days of listening, learning and engagement, I met with more than 2,000 students, faculty and staff, trustees, partners, business and civic leaders, legislators and community members. Thank you for warmly welcoming me to this extraordinary community and for sharing your passion and vision for Tri-C, which have shaped the principles and themes that will guide us forward.
July 2022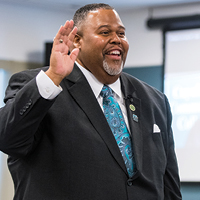 August 2022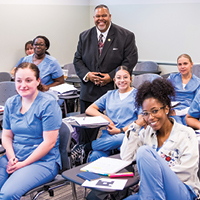 Aug. 1: Appeared in Smart Business article: New President Michael Baston wants Tri-C to hold the ladder of opportunity.
Aug. 1: Attended opening of Via Sana, the first phase of a $60 million mixed-use development by The MetroHealth System. The affordable housing complex features a Tri-C Access Center that will offer job training, financial and digital literacy training and access to Tri-C classes.
Aug. 2-5: Attended American Association of Community Colleges (AACC) Annual Board of Directors Retreat.
Aug. 8:  Appeared on WKYC's We The People to discuss inclusion and education with senior reporter and commentator Leon Bibb.
Aug. 11: Invited by Secretary of Education Miguel Cardona to participate in a panel discussion on value-added work and career pathways at Raise the B.A.R.: Bold + Action + Results in College Excellence and Equity, a U.S. Dept. of Education summit.
Aug. 11: Appeared in Community College Daily article: ED Summit emphasizes completion with equity, mobility. 
Aug. 11: Interviewed on Ideastream's The Sound of Ideas.
Aug. 12: Joined Community College Humanities Association (CCHA).
Aug. 15: Featured on The Landscape, a podcast by Crain's Cleveland Business.
Aug. 17: College received a Best in Class award for board diversity — along with Hall of Fame honors in the category — from the Greater Cleveland Partnership (GCP). This designation recognizes Tri-C for achieving Best in Class for three consecutive years.
Aug. 18: Shared insights on regional workforce strategies with 200+ business and community leaders in a discussion with Cleveland State University President, Laura Bloomberg, at Team NEO's Misaligned Opportunities event.
Aug. 18: Attended Taste of Black Cleveland.
Aug. 23: Attended GCP Middle Market CEO Forum at Vitamix headquarters.
Aug. 23: Joined Unify Jobs Board of Directors.
Aug. 23: Spoke about post-pandemic "now normal" and regional workforce needs, along with finding opportunity in times of crisis, during Convocation address to 500 faculty and staff.
Aug. 24-25: Visited all four Tri-C campuses to meet and greet students and kick off Fall 2022 semester.
Aug. 25: Attended Team NEO's Quarterly Investor Meeting at EY-Nottingham Spirk Innovation Hub.
Aug. 26: Attended Cuyahoga Community College Foundation board welcome reception.
Aug. 27: Attended Hope Heals: The 2022 MetroHealth Gala.
Aug. 29: Met with Anthony Richardson, president of The George Gund Foundation.
Aug. 30: Met with Erika B. Rudin-Luria, president of the Jewish Federation of Cleveland, and Dan Zelman, board chair.
Aug. 31: Attended GCP New Business Leaders in Greater Cleveland dinner.
September 2022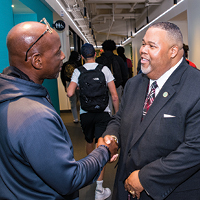 Sept. 1: Met with key Tri-C donor Howard Lewis, founder and chairman emeritus of Family Heritage Life Insurance Company of America.
Sept. 6: Met with Pernel Jones Jr., Cuyahoga County Council president.
Sept. 6: Met with Cathy Belk, president and CEO of Deaconess Foundation, and two foundation trustees.
Sept. 7: Toured KeyBank Public Safety Training Center at Tri-C's Western Campus.
Sept. 9: Welcomed 57 attendees at Goldman Sachs 10,000 Small Businesses kickoff event.
Sept. 12: Met with Ronn Richard, president and CEO of the Cleveland Foundation.
Sept. 12: College once again honored as Great College to Work For® by ModernThink LLC — one of only 22 two-year institutions selected nationwide. Tri-C was also one of only 12 institutions to receive Honor Roll status.
Sept. 13: Met with key Tri-C donor Albert Ratner, co-chairman emeritus of Forest City Enterprises and Partner, RMS Investment Corp.
Sept. 13: Met with Timothy L. Tramble Sr., president and CEO of St. Luke's Foundation.
Sept. 13: College was recognized as one of Northeast Ohio's top places to work, winning its 16th NorthCoast 99 award. Tri-C also received an Award of Excellence as the highest scorer among companies with 500 or more employees.
Sept. 14: Initiated student-led creation of a video birthday card for employees with Student Production Office.
Sept. 14-29: Connected with 500+ students, faculty, staff and community members during listening sessions at all four Tri-C campuses and the Jerry Sue Thornton Center.
Sept. 16: Met with Blaine Griffin, Cleveland City Council president.
Sept. 16: College hosted MetroHealth Job Fair for St. Vincent Charity employees affected by service changes.
Sept. 16: Hosted Tri-C Family Day at Progressive Field for 980 alumni, faculty and staff.
Sept. 19: Named Radiah Blanton executive director of Strategic Initiatives, Renee Richard interim president of Corporate College® and Dee Weber vice president of Human Resources and chief human resources officer.
Sept. 20: Met with Jack, Joseph and Morton Mandel Foundation Chair Stephen Hoffman and President and CEO Jehuda Reinharz.
Sept. 21: Met with Janice Tubbs, economic development project manager with the city of Garfield Heights.
Sept. 21: Launched design competition among Visual Communication and Design students for College's 2022 holiday card.
Sept. 21: Attended Cleveland Metropolitan School District CEO Eric Gordon's State of the Schools Address.
Sept. 21: Received College's 10th consecutive Higher Education Excellence in Diversity (HEED) Award from INSIGHT Into Diversity magazine.
Sept. 27: Appointed Shana Marbury executive vice president of Workforce, Community and Economic Development and William Gary senior advisor on national workforce issues.
Sept. 28: Joined Playhouse Square Board of Directors.
Sept. 28: Engaged with 120 Tri-C leaders at Collegewide Cabinet.
Sept. 28: Opened Tri-C Foundation board meeting.
Sept. 29: Toured Tri-C's Transportation Innovation Center with Ohio Gov. Mike DeWine.
Sept. 29: Met with John P. Murphy Foundation President Nancy McCann; Executive Vice President Richard Clark; and several trustees/staff.
Sept. 30: Addressed Tri-C Deans Council at annual retreat.
October 2022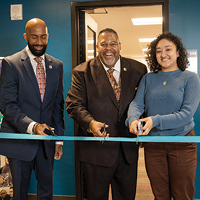 Oct. 5: Attended luncheon for community leaders hosted by Umberto Fedeli, president and CEO of The Fedeli Group.
Oct. 6: Received two motor coaches from Greater Cleveland Regional Transit Authority (GCRTA) as part of a partnership expansion with Tri-C. The coaches will give commercial driver's license (CDL) trainees hands-on experience operating real-world vehicles.
Oct. 6: Attended Hispanic Heritage Month celebration and grand opening of Metropolitan Campus Student Center for Multicultural Engagement.
Oct. 6: Published first Smart Business column: Defining the 'now' normal.
Oct. 7: Welcomed 250 attendees to Ohio Association of Two-Year Colleges Annual Conference at Tri-C's Eastern Campus.
Oct. 7: Attended inauguration of Cleveland State University President Laura Bloomberg.
Oct. 7: Attended Project Love's Values-in-Action luncheon.
Oct. 8: Reached 100th day leading Tri-C.