Triceratops Track Team Dominates
Tri-C wins 17 events on the way to yet another NJCAA Region XII championship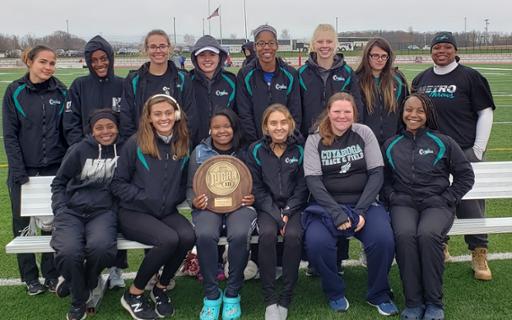 Cuyahoga Community College (Tri-C®) track and field athletes made a habit out of climbing to the top of the medal podium at the NJCAA Region XII Outdoor Track and Field Championships.
The Triceratops won 15 of 18 individual events and both relays to claim their 17th regional title in the past 19 years. The meet took place April 26-27 in Grand Rapids, Michigan.
Thrower Artis Sims (Statham, Georgia) and sprinter I'Tayia Harris (Lima) led the way with victories in four events. Sims won in the discus, hammer throw, javelin and shot put, while Harris took the crown in the 100-meter dash and 100-meter hurdles, plus two relays.
Others who claimed individual titles included:
Niki Bartosova (Berea) — triple jump
Hope Brown (Middleburg Heights) — 5,000-meter run
Kamry Brown (Lima) — 400-meter dash
Aja Duvall (Northfield) — 200-meter dash
Vanessa Lane (Tallmadge) — high jump
Jasmon Scott (Northfield) — long jump
Maddie Tasich (Tallmadge) — 400-meter hurdles
Sierra Taylor (Conneaut) — 10,000-meter run
Emily Zimmerman (Cuyahoga Falls) — 3,000-meter steeplechase
Brown, Duvall, Harris and Scott passed the baton while circling the track to win the 4x100-meter relay. The victorious 4x400-meter squad included Brown, Harris, Scott and Sarah Shahan (Middlefield).
For more information on the women's track team, visit www.tri-c.edu/athletics.
April 29, 2019
John Horton, 216-987-4281 john.horton@tri-c.edu