Tri-C Spring Commencement Celebrates More Than 1,800 Graduates
Ceremony for Class of 2023 takes place May 19 at Wolstein Center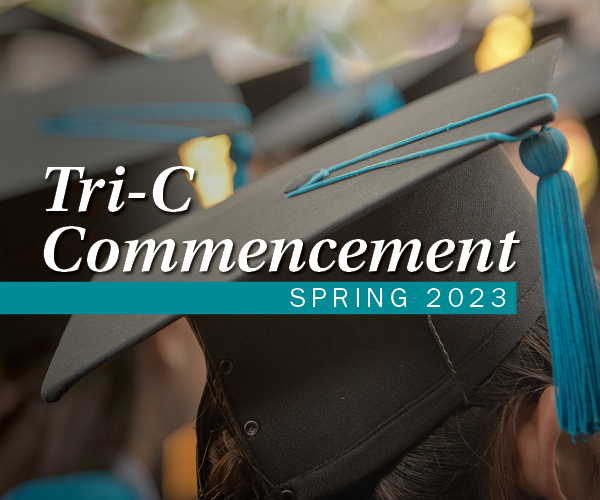 Cuyahoga Community College (Tri-C®) will celebrate the academic achievements of more than 1,800 petitioning graduates during its Spring Commencement Friday, May 19, at 2 p.m.
The College will confer nearly 2,300 degrees and certificates of completion this spring. The graduate total reflects the ongoing impact of College programs and initiatives designed to keep students on the path to completion. The ceremony will be available for viewing on Tri-C's Commencement webpage and the College's YouTube channel.
Tri-C President Michael A. Baston said he is eager to celebrate the graduates as they move toward a better life for themselves and their families.
"The students graduating from Tri-C this spring came to us from different backgrounds and for different reasons, but what they share is the pursuit of a better future," Baston said. "Our graduates have gone on to pursue successful careers, start their own businesses and contribute to the economic development of our region. They are doctors, lawyers, engineers, teachers and entrepreneurs, and they all have one thing in common: Tri-C helped them get there. I'm certain that our newest graduates will do great things in their lives."
Laryssa Maruski, a native of Brazil and Rocky River resident who will graduate with an Associate of Arts degree, was selected by her classmates as the student speaker for the ceremony. Maruski has attended Tri-C since 2021 and first came to the College to take English as a Second Language classes. She plans to attend Cleveland State University in the fall to earn a bachelor's degree in marketing with a minor in international business. Read
Read more about Maruski and other high-achieving graduates on the College's Commencement Graduate Stories webpage.
Tri-C will also award an honorary degree to Howard Lewis, chairman emeritus of the Family Heritage Life Insurance Company, which he founded in 1989 and served as its president and CEO until 2014. Lewis is a member of the Cuyahoga Community College Foundation Board of Directors, chairs the development committee and is an active member of the Skills to Succeed Campaign cabinet. He holds a bachelor's degree from the University of Kentucky and an MBA from Xavier University.
This year's commencement ceremony will take place at Cleveland State University's Wolstein Center, located at 2000 Prospect Ave. in Cleveland.
May 19, 2023
MEDIA CONTACT: Anthony Moujaes, 216-987-3068 or anthony.moujaes@tri-c.edu