Tri-C Softball Shortstop Daniele Rivera Named Conference Player of the Year
Teammates Lyndsey Baglia, Megan Mulhan and Lexi Rehm also honored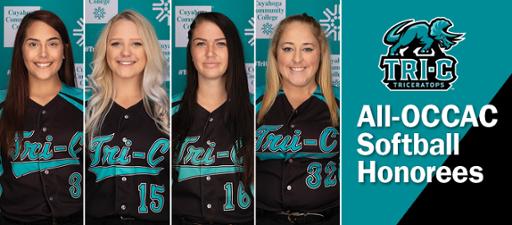 Cuyahoga Community College (Tri-C®) softball player Daniele Rivera has been named 2019 Player of the Year by the Ohio Community College Athletic Conference, which announced its postseason awards this week.
Rivera batted .504 while posting a .600 on-base percentage, ranking among the national leaders in both categories. The shortstop stole 26 bases and scored 44 runs for the Triceratops. She also added 27 RBI.
The sophomore from Brooklyn is studying criminal justice at Tri-C.
Three teammates joined Rivera in earning all-conference honors, including:
Pitcher Lyndsey Baglia, who threw a perfect game while compiling a 15-3 record with a 3.12 ERA over 19 starts. The freshman from Doylestown is studying visual communication and design.
Catcher Megan Mulhan, who batted .503 while leading the nation with 67 RBI. The sophomore from Brunswick is studying business and human resource management.
Third baseman Lexi Rehm, who batted .440 while leading the conference with nine home runs. The sophomore from Wooster is studying criminal justice.
Mulhan, Rehm and Rivera were also named to the NJCAA All-Region XII team.
The Triceratops spent most of the season in the national rankings on the way to a 33-11 record and second-place finish in the conference. Postseason play in the NJCAA Region XII tournament begins next week.
For more information on Tri-C teams, visit www.tri-c.edu/athletics.
May 10, 2019
John Horton, 216-987-4281 john.horton@tri-c.edu