Tri-C Rounds Out Coaching Hires with Three More Additions
Coaches hired for men's soccer, men's basketball and baseball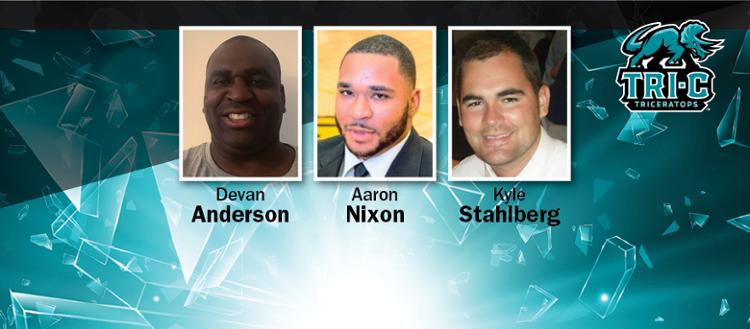 In preparation for the return of its athletics programs this fall, Cuyahoga Community College (Tri-C®) has announced the hiring of three coaches to lead its men's basketball, baseball and men's soccer teams.

First-year athletics director Anthony Cipollone is excited to see the Triceratops return to competition after a two-year hiatus caused by the COVID-19 pandemic. The department recently announced the hires of four coaches to lead its women's teams.

Devan Anderson (Men's Soccer)
Anderson will return to lead the Triceratops soccer program for a 24th season. He has enjoyed a wealth of success in helping student-athletes achieve their goals.

"We are so lucky to welcome back Coach Anderson to the Triceratops family," Cipollone said. "As a veteran coach, he will be a great resource for our new coaches. In my conversations with him, he is certainly energized to restart the program within our new structure."

Aaron Nixon (Men's Basketball)
A veteran of the Ohio Community College Athletic Conference (OCCAC) men's basketball coaching ranks, Nixon was an assistant at Tri-C under the tutelage of former men's basketball coach Michael Duncan. 

Nixon played for Columbus State Community College and was named 2004 OCCAC Player of the Year, Third-Team All American NJCAA Division II, and Sporting News No. 1 Junior College Player. He earned a scholarship to Long Beach State. Named the 2007 Big West Player of the Year, he finished sixth in scoring (601 points) in Big West Conference history and garnered Div. 1 All-American Honorable Mention accolades.

After a brief professional career, he dedicated his time to coaching and working in the mental health industry. He holds an associate degree from San Bernardino Valley College, a bachelor's degree from Long Beach State and a master's in education from Heidelberg University. 

"Aaron is a veteran coach with deep ties to Tri-C, as his father played here," Cipollone said. "He has worldwide connections, so his recruiting net will be cast widely. We were impressed by his vision of what he believes Triceratops men's basketball can become: an NJCAA national powerhouse."

Kyle Stahlberg (Baseball)
Stahlberg comes to Tri-C after a successful six-year stint as head coach at Eastlake North, receiving recognition as 2021 Lake County Coach of the Year.

His professional career began in 2009 with the Arizona Winter League, followed by the Traverse City Beach Bums. He was a member of the Canton Stallions' National Championship team in 2010 and 2011 and was a player/coach for the Berea Blue Sox 18+ baseball team, winning national championships in 2019 and 2021. He was inducted into the National Semi-Pro Baseball Hall of Fame in 2014.

Stahlberg teaches at Memorial Junior High School in the Willoughby-Eastlake School District. He holds bachelor's degrees in criminal justice and middle childhood education from the University of Dayton.

"Kyle has been successful everywhere he has been, and he understands how to build a program," Cipollone said. "His colleagues and rival coaches all rave about his professionalism and attention to detail, which will help him as he revives our historically great baseball program."
February 11, 2022
By Anthony Moujaes, 216-987-3068 or anthony.moujaes@tri-c.edu