Tri-C Hires Head Coaches to Prepare for Return of Athletics Programs This Fall
Coaches hired for volleyball, softball, women's basketball and track and field/cross-country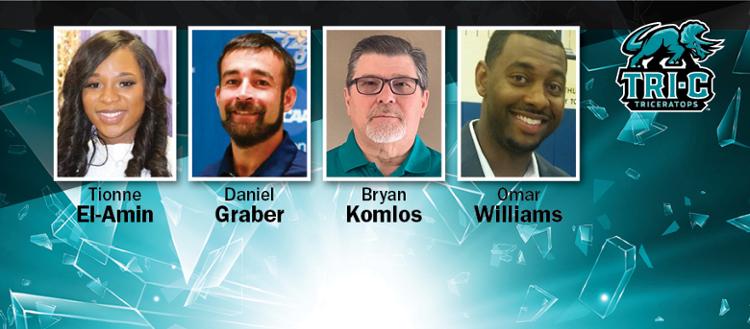 In preparation for the return of its athletics programs this fall, Cuyahoga Community College (Tri-C®) has announced the hiring of four coaches to lead its volleyball, women's track and field/cross-country, softball and women's basketball teams.
Athletics director Anthony Cipollone is excited to see the Triceratops return to competition after a two-year hiatus caused by the COVID-19 pandemic.
Tionne El-Amin (Volleyball)
A former All-Ohio Community College Athletic Conference (OCCAC) performer for the Triceratops volleyball program, El-Amin holds school records in career kills, points, attacks and serve points. She was nationally ranked for kills and kills per set by the National Junior College Athletic Association (NJCAA).
El-Amin earned an associate degree from Tri-C and is completing a bachelor's in sports management at The University of Akron. She previously served as head coach at Akron's Buchtel High School and has coached with Impact Volleyball Club, VolleyFreak Volleyball Club and Volleyball Club of Tallmadge.
"It is with great pride that we can bring back one of Tri-C's all-time best volleyball players to lead this relaunch," Cipollone said. "Tionne is the epitome of what we want in our student-athletes, as she made herself into a great player despite the adversity she faced. I look forward to seeing her coach."
Daniel Graber (Women's Track and Field/Cross-Country)
As the former head track and field/cross-country coach at Webster University (Div. III), Graber led the men's track and field team to second-place SLIAC finishes in both 2017 and 2018 and the women's team to conference championships in 2018 and 2019. The women's cross-country teams won three consecutive SLIAC titles under his leadership.
Prior to his time at Webster, Graber was the lead recruiter and assistant coach for Centre College in Kentucky, helping them win several conference championships.
As a student-athlete at Heidelberg University, Graber was a two-time Academic All-American in cross-country, an All-Region Runner and a three-time All-Academic Ohio Athletic Conference honoree. He holds a master's degree from Emory University and a bachelor's from Heidelberg.
"The former colleagues we spoke to had countless great things to say about how Dan works and the relationships he builds with student-athletes," Cipollone said. "I believe we will return to our former success sooner rather than later with Dan as our coach."
Bryan Komlos (Softball)
Komlos will return to Tri-C for his 14th year of coaching and 12th year as head coach for the softball program. During his tenure, the Triceratops have won three OCCAC titles and two regional titles, finishing sixth and 14th in the Division II World Series.
He has coached four conference Players of the Year, 35 All-OCCAC Players, 10 All-District players, seven Academic All-Americans and seven Athletic All-Americans.
Komlos is the Ohio Manager of Facility Operations for First Energy Corporation, a company he has been with for 43 years. He is finishing a degree in automotive technology at Tri-C. 
"It's great to have Bryan back at the helm of our softball program," Cipollone said. "He lives and breathes softball and is genuinely excited about the chance to be competitive in this comeback year. It's nice to have a veteran coach like Bryan to serve as a resource for some of our new coaches." 
Omar Williams (Women's Basketball)
Williams is a Tri-C graduate and a veteran of the OCCAC coaching ranks, having spent time at Bryant and Stratton and Lakeland Community College as an assistant coach. He recently coached basketball at John F. Kennedy High School in Cleveland.
Active in the community, Williams runs a youth sports organization called Ohio Elite Athletics that gives young athletes the opportunity to play football, wrestle and participate in track and field. He also works at Lincoln-West High School, where he served as head boys' basketball coach for six seasons.
"Omar has such a passion for both basketball and Tri-C," Cipollone said. "As a Tri-C grad, he will immediately help his team succeed on and off the court. His familiarity with the conference will enable the smooth relaunch of our program, and his energy will be contagious."
January 28, 2022
By Anthony Moujaes, 216-987-3068 or anthony.moujaes@tri-c.edu