Tri-C, Medical Mutual Unveil Expanded Food Bank
Dedication of Western Campus pantry continues support for student success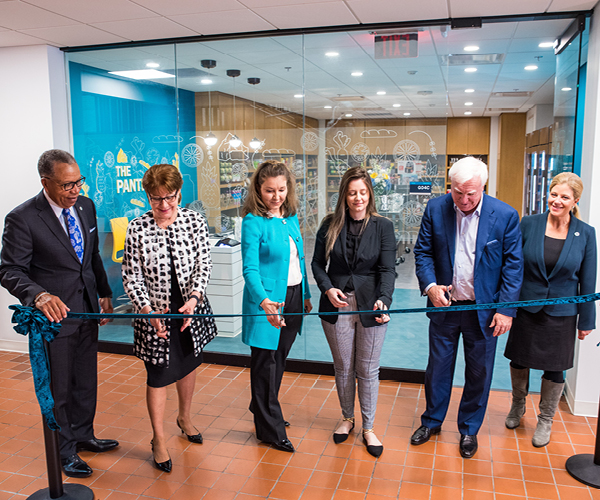 Students in need of food assistance and other basic necessities have a new resource at the Western Campus of Cuyahoga Community College (Tri-C®), thanks to continued support from Medical Mutual.
A ribbon-cutting ceremony on April 29 marked the expansion of The Pantry: A Tri-C Connect Initiative at the Parma campus. Located on the lower level of the Student Services Building, it will provide eligible students with up to 15 pounds of food, toiletries and other basic necessities each week.
"Food insecurity is one of the leading concerns Tri-C students face right now," said Megan O'Bryan, vice president of Resource Development and president of the Tri-C Foundation. "This is a significant barrier for students, and in closing the skills gap. With generous support from Medical Mutual, the College will better meet students' basic needs in an attractive and welcoming environment."
Medical Mutual pledged a $1 million gift to the Tri-C Foundation in May 2021. The funding also will establish the Medical Mutual Workforce Training Endowed Scholarship and the Medical Mutual Student Response Endowment Fund. The Greater Cleveland Food Bank will provide fresh and nonperishable food items for the pantry.
"An investment of this magnitude transforms the way we deliver services at Tri-C, and I hope it will inspire others to join this cause," said Tri-C President Alex Johnson. "We expect that other donors will follow Medical Mutual's lead to ensure our students can receive assistance on any campus."
Hunger remains a fundamental barrier to educational access and completion for a significant number of Tri-C students. The Pantry ensures students in need have access to food, essential resources and financial support in an open, safe space.
"We have long recognized our responsibility and role in making Ohio a better place to live. We see our own values reflected in the work of Cuyahoga Community College and we know that every time we support Tri-C, we are contributing to a more vibrant and healthy future for our entire community," shared Andrea Hogben, executive vice president at Medical Mutual. "By investing in the expansion of the food pantry on Tri-C's West Campus we are helping to ensure that the most vulnerable students today and, in the future, will have access to adequate food and toiletries for personal needs."
The dedication ceremony featured remarks from College President Alex Johnson, Campus President Lisa Williams, and Vice President, Western Campus Student Government Laryssa Maruski.
For more information on supporting the Tri-C Foundation, visit tri-c.edu/give.
April 29, 2022
By Anthony Moujaes, 216-987-3068 or anthony.moujaes@tri-c.edu