Tri-C Foundation Announces New Leadership Team
John Skory of FirstEnergy Corp. appointed as Foundation chairperson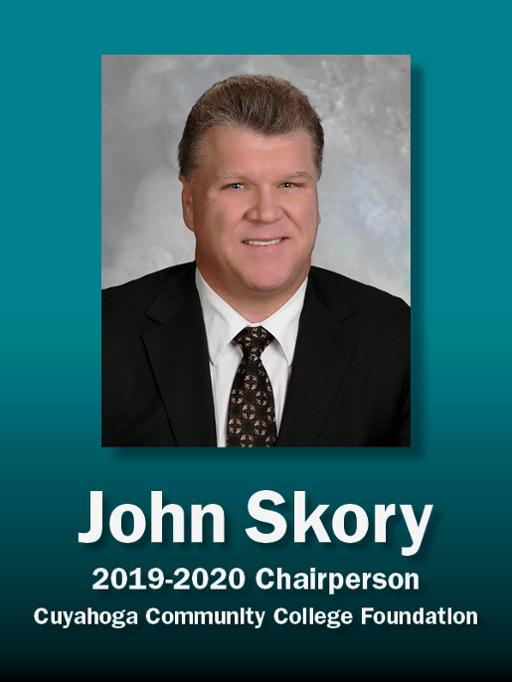 The Cuyahoga Community College (Tri-C®) Foundation announced its 2019-2020 leadership team during its annual meeting.
John Skory, president of Ohio operations at FirstEnergy Corp., was appointed chairperson. The Cleveland native — who is also a Tri-C graduate — has served as a Foundation director since 2014.
"I know firsthand the power of a Tri-C education," Skory said. "The Cuyahoga Community College Foundation puts degrees and workforce credentials within reach for thousands of community members each year. Foundation scholarships change lives and open doors to a better future."
Skory succeeds Trina Evans, who led the Foundation the past two years. Evans will continue to serve on the Foundation's Executive Committee.
Other Foundation board officer appointments include:
Vice chairpersons: James B. Aronoff, partner, Thompson Hine LLP; Louis G. Joseph, president and CEO, The Brewer-Garrett Company; and Bernie Moreno, president, Bernie Moreno Companies
Secretary: Katherine T. O'Neill, community leader
Treasurer and vice chairperson: Gregory J. Skoda, chairman, Skoda Minotti
President: Megan O'Bryan, vice president of resource development at Tri-C
In addition, the Foundation welcomed three new directors to its board: Jonathan Epstein, community leader; Howard Lewis, chairman, founder and CEO, Family Heritage Life Insurance Company of America; and Patrick Pastore, regional president, Cleveland, PNC Bank.
The Cuyahoga Community College Foundation, chartered in 1973, is a tax-exempt 501(c)(3) charitable organization. The mission of the Foundation is to secure funding for scholarships and educational program development and enhancement at Tri-C.
Last year, with support from the Foundation, the College awarded a record $3.2 million in scholarships to 2,700 students in need.
June 12, 2019
John Horton, 216-987-4281 john.horton@tri-c.edu