Tri-C Film Academy's 'The Simple Path' Gains Laurels
Student film wins multiple honors while being screened at 26 film festivals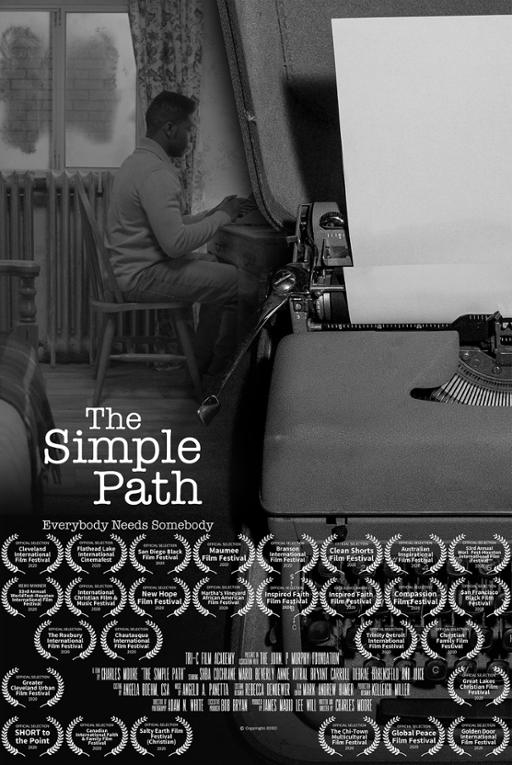 A short film created by the Film Academy at Cuyahoga Community College (Tri-C®) has been screened by more than two dozen film festivals across the United States and beyond. 
Twenty-six festival laurels now fill the poster for The Simple Path, which was shot as part of a five-week intensive film crew training program at Tri-C. The film also claimed a handful of festival awards and nominations. 
The Simple Path follows the decision-making of Nevaeh, an elder care nurse who struggles emotionally when one of her long-term patients loses the ability to support the costs of her care. 
Though the 16-minute film's subject matter is distressing given the realistic challenges it addresses, the story finds balance in the random acts of kindness often provided to those in need. 
Charles Moore wrote and directed the film. James Madio and Lee Will served as producers. Filming of The Simple Path was made possible in part through generous support from the John P. Murphy Foundation through the Cuyahoga Community College Foundation. 
Students who worked on the set received a paycheck and film credit to build their resume and Internet Movie Database (IMDb) profile. 
Honors for The Simple Path include a Gold Remi Award from the WorldFest-Houston International Film Festival in Texas and an Excellence Award from the Inspired Faith Film Festival in Florida. 
In addition, Mario Beverly earned a Best Supporting Actor Award at the Branson International Film Festival in Missouri. 
Here is the full list of film festivals that selected The Simple Path for screenings:
Australian Inspirational Film Festival
Branson International Film Festival
Canadian International Faith & Family Film Festival
Chautauqua International Film Festival
Chi-Town Multicultural Film Festival
Christian Family Film Festival
Clean Shorts Film Festival
Cleveland International Film Festival
Compassion Film Festival
Flathead Lake International Cinemafest
Global Peace Film Festival
Golden Door International Film Festival
Greater Cleveland Urban Film Festival
Great Lakes Christian Film Festival
Inspired Faith Film Festival
International Christian Film and Music Festival
Martha's Vineyard African American Film Festival
Maumee Film Festival
New Hope Film Festival
Roxbury International Film Festival
Salty Earth Film Festival
San Diego Black Film Festival
San Francisco Black Film Festival
SHORT to the Point International Short Film Festival
Trinity Detroit International Film Festival
WorldFest-Houston International Film Festival
August 24, 2020
John Horton, 216-987-4281 john.horton@tri-c.edu