Tri-C Famous: Chris Faciana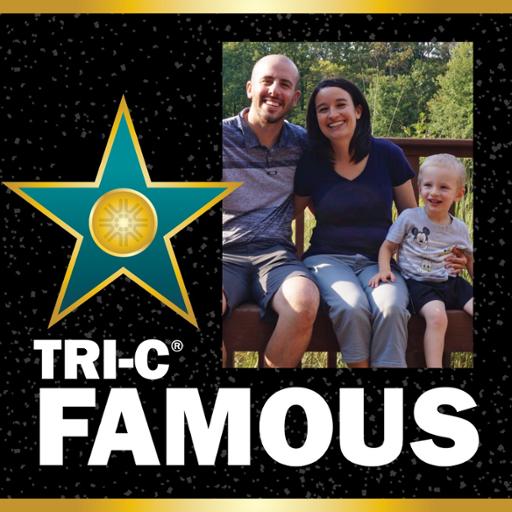 #TriCFamous is a bimonthly feature that introduces readers to the people who make the College work while providing a sneak peek into their lives off campus.
Chris Faciana is the program manager for Sport and Exercise Studies at the Eastern Campus. He also serves as an advisor for Phi Theta Kappa Honor Society's Alpha Epsilon Eta chapter. You may recognize him (and his toddler son) from a recent Fox 8 segment in which he demonstrated ideas for staying fit while staying home. 
What's your favorite weekend activity?
Spending time outdoors with my wife, Stephanie, and our son, Luke. We frequent Brandywine Falls [at Cuyahoga Valley National Park] and Brecksville Reservation. When playgrounds open up again, we look forward to visiting our favorites: Preston's Hope in Beachwood, Liberty Park in Independence and Kids Quarters in Brecksville. 
What are your Top 3 favorite movies?
The Godfather (classic), Zoolander (plenty of quotable lines!) and, since zombies have always been a personal favorite, 28 Days Later. 
Who is your favorite band/performer?
I often get grief from my family and friends about my favorite band. No, it's not Nickelback … it's Creed. I've been to so many Creed concerts, and I've even seen lead singer Scott Stapp perform solo. I often joke that I celebrate their entire catalog, but if I had to pick a favorite song, it would be "With Arms Wide Open." 
Want to be Tri-C Famous? Email jarrod.zickefoose@tri-c.edu for a chance to be featured (or to nominate someone else!)
May 12, 2020
Beth Cieslik, 216-987-4538 beth.cieslik@tri-c.edu