Tri-C Faculty Member No Stranger to Landscaping Limelight
Ohio Green Industry Association names Jim Funai 2022 Educator of the Year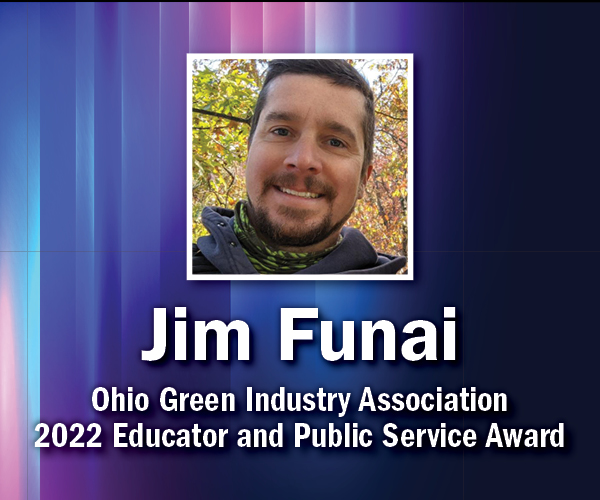 The awards keep cropping up for Jim Funai this year.
The assistant professor in Cuyahoga Community College's (Tri-C®) Plant Science and Landscape Technology program has snagged two "Educator of the Year" awards at the state and national levels.
In March, the National Association of Landscape Professionals (NALP) Foundation named Funai its Outstanding Educator of the Year, and the Ohio Green Industry Association presented him with the 2022 Educator and Public Service Award during its annual conference in November.
"It is an absolute honor to be recognized for the years of hard work," Funai said. "I think about the previous winners and am humbled to be considered in their ranks. Teaching is a career that comes with a lot of gratification and little mini wins every day as you help your students grow. It was fun to celebrate the passion that keeps me moving forward."
Things are also coming up roses for his students this year. The program took second place in the team category of the NALP's annual National Collegiate Landscape Competition — its highest finish to date.
Funai, president of the Ohio Landscape Association Board, spent 15 years in the green industry before coming to Tri-C in 2009.
The licensed arborist holds a master's in extension education from Colorado State University and a Ph.D. in urban forestry from Mendel University in Brno, Czech Republic.
December 01, 2022
By Noelle Bye, 216-987-4747 noelle.bye@tri-c.edu