Tri-C Ballplayers Shine on the Diamond
Softball's Daniele Rivera and baseball's Brock Begue honored by conference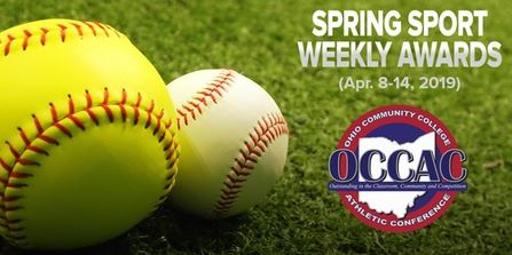 Awards keep following victories for players on the Cuyahoga Community College (Tri-C®) softball and baseball teams.
Daniele Rivera claimed softball Player of the Week recognition from the Ohio Community College Athletic Conference for games played April 8-14, while Brock Begue won the baseball Pitcher of the Week award.
The two helped power their teams to nine wins in 10 games during the week.
Rivera wrecked the competition, batting .733 (11-15) with four doubles. She drove in seven runs and scored nine. The shortstop also added four stolen bases and three walks to her weekly stat line.
On the season, she is batting .488 with 35 runs scored and 16 RBI in 29 games. The sophomore from Brooklyn is studying criminal justice at Tri-C.
Begue dazzled in his lone mound appearance, throwing a one-hit, complete game shutout over conference foe Clark State Community College. He struck out 14 in five innings of work in the 10-0 victory.
He is 4-1 on the season with 70 strikeouts in 35.1 innings. The sophomore from North Canton is taking classes to build toward a career in construction management.
Tri-C's nationally ranked softball team is now 26-6 on the season and atop the conference standings. The baseball team is 16-14 and second in the OCCAC. Both teams play their home games at Tri-C's Western Campus in Parma.
For full team schedules, visit www.tri-c.edu/athletics.
April 16, 2019
John Horton, 216-987-4281 john.horton@tri-c.edu