The Art of Knowing What You Want
Amanda Saris completes degree at Tri-C in pursuit of an art education career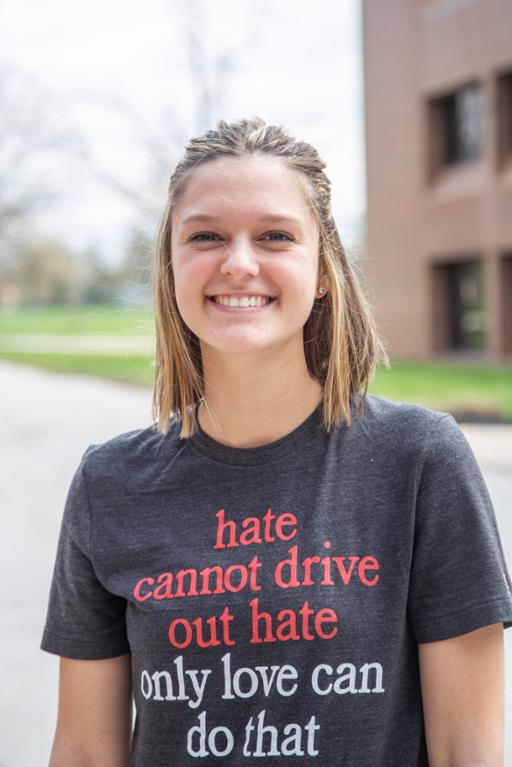 When she was in high school, Amanda Saris knew three things for certain: She was passionate about art, really liked working with kids and planned to attend Cuyahoga Community College (Tri-C®).
Those truths carried her all the way to Tri-C's 2019 Spring Commencement.
Saris graduates from the College this month with an Associate of Arts degree with a focus in art. In the fall, she plans to transfer to Baldwin Wallace University to complete a bachelor's degree in art education. 
The 20-year-old took her first classes at Tri-C's Brunswick University Center during her junior year at Brunswick High School. She enrolled through College Credit Plus, a state program that allows teens to earn college credits while meeting high school graduation requirements.
"I was a third of the way done with my degree before I even graduated high school," Saris said. "It saved a lot of money and time."
In fall 2017, she began taking classes full time at the College's Western Campus in Parma. Saris quickly focused on building toward a career in art education, which merged two of her interests.
"I always knew I wanted to do something in the art field, but wasn't sure what," she said. "I babysat, had been a nanny before, so a major in art education just made sense."
She credited her professors, particularly Stephanie Craig, with helping her hone her skills and find success. She said she feels prepared to transfer to Baldwin Wallace to work toward her next degree.
Saris said she cherished her Tri-C experience.
"I've met so many different people from so many different backgrounds," Saris said. "I would say Tri-C has taught me to be more open to everyone and not afraid to put myself out there. It really has been awesome."
Cuyahoga Community College will celebrate the academic achievements of thousands of students on May 16 at Spring Commencement. Check our News and Events page in the days leading up to the ceremony as we highlight members of the Class of 2019.
May 04, 2019
Madeline Shepherd, 216-987-4616 madeline.shepherd@tri-c.edu