Never Too Late
With support from family, Keith Rush returns to Tri-C after 20 years to earn Associate of Applied Science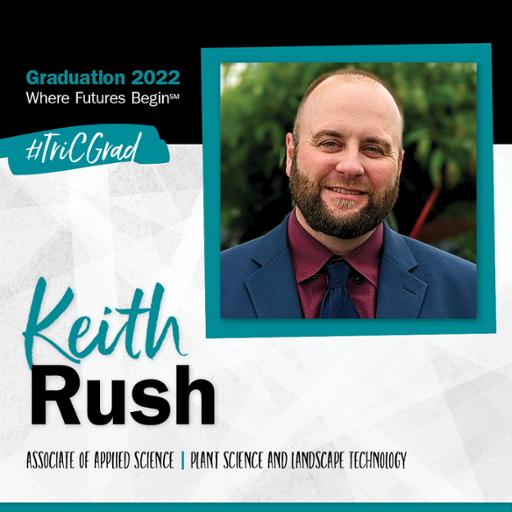 It took Jonathan Keith Rush two decades to achieve a lifelong dream.
After putting his education on hold for a variety of reasons, Rush returned to Cuyahoga Community College (Tri-C®) in fall 2020 and is now poised to earn his first college degree.
Rush, 40, of University Heights, will graduate June 2 with an Associate of Applied Science degree in Plant Science and Landscape Technology during the College's Spring Commencement at Progressive Field.
Encouragement from his daughters, Alex and Ainsley — along with support from friends and teachers he met along the way — gave Rush the push he needed to complete his studies with a 3.92 GPA.
"While school can be overwhelming at times, they are not going to fire you for not being perfect," he said. "Your teachers are here to help you learn, not make you fail."
And there were other successes along the way. Rush was part of the Tri-C team that placed second at the National Collegiate Landscape Competition (NCLC) — the highest-ever finish for the College — held March 16-19 at North Carolina State University in Raleigh.
He placed in the Top 3 in four events and eighth overall.
"I got to know so many of my classmates while on the trip, and it was so fun to compete with them all," Rush said. "It was awesome to see how hard everyone worked and how supportive everyone was while watching other teammates' events."
Though he may consider furthering his education at some point, Rush plans to keep his current job and enjoy some time away from the classroom. But he readily encourages anyone considering a return to college to pursue their degree.
"It's never too late," he said. "It's taken me 20 years to get to this point, but I'm happy I followed through with it."
Cuyahoga Community College will celebrate the academic achievements of its newest graduates during commencement on June 2 at Progressive Field in Cleveland. Check our News and Events page leading up to the event for more highlights of the Class of 2022.
May 31, 2022
By Anthony Moujaes, 216-987-3068 or anthony.moujaes@tri-c.edu