#MyTriCStory: Alere Student- Run Restaurant

#MyTriCStory is a series highlighting everyday people in the Tri-C community. We got an opportunity to sit down with the staff and students of Alere from the Hospitality Management program.
Alere is a student-run restaurant located at the Jerry Sue Thornton Center on East 22nd Street. The daily menu is created and prepared by Tri-C culinary students working with faculty advisors and instructors. It offers a changing array of appetizers; lighter fare such as wraps and sandwiches; and entrees and desserts.
The eight students at Alere took a momentary break from making culinary magic to talk about their experiences at the restaurant and Tri-C.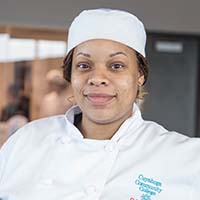 "I returned to school to set an example for my four children. I decided that if I went back to school, it would be for something I really enjoyed and a profession where I know I can find a career. I take what I learn in class and bring meal ideas home. My son is a picky eater, but my experiences here help me create meals that he loves and that are healthy for him. The experience here goes far beyond the classroom."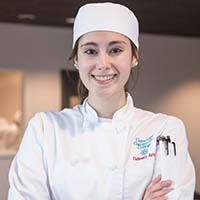 "I'm at Tri-C specifically for the Culinary Arts program and the Professional Baking Certificate. I currently work at Michael Angelo's Bakery. The baking class has really helped me with my job. I find that I'm more organized, and I know how to set up my workstation to help me be more efficient."
"I have a master's degree in public health, but I realized that I wasn't happy with what I was doing. I love to cook, so I went back to school so I can work for myself. Ultimately,  I want to find a voice for women in the culinary arts. I'm thinking something like a women's culinary alliance here in Cleveland."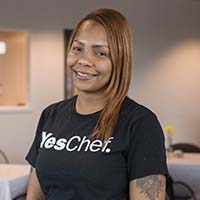 "I've never worked in a restaurant. I am experiencing what it's like to serve the guests as a waitress, and then we'll switch and I'll be preparing the food. This class will help me appreciate and respect both the front and back of a restaurant."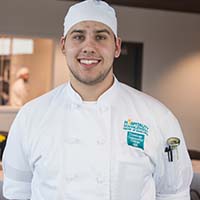 "This week, I was the Chef de Cuisine. Each student gets to create an appetizer, entree and dessert for a week at Alere. It's different when you prepare something for a restaurant versus in your home. You need to make sure your dish can be prepared for a volume of people. There are strict recipes so that your dish is consistent. Consistency is so important in the restaurant business."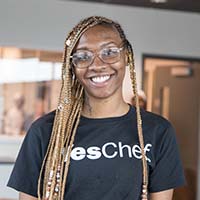 "What makes Tri-C's Hospitality Management program special is that the teachers are so willing to help. They really work with you to make sure you're prepared for a career in this field instead of just going through the classes. And there is so much more to the program than just cooking. We learn about technical aspects of the career like safety and sanitation, too."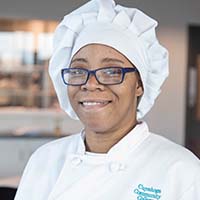 "My favorite thing about Tri-C's Culinary Arts program is how hands-on it is. I am definitely going to take some of the recipes I've learned in this class and bring them home to make them my own."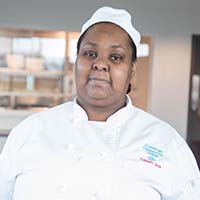 "I graduate in May, and graduation means everything to me. I've been working at this degree for so long that when I got an email the other day about Commencement, I sent a save-the-date to everyone I know."
March 01, 2018
Tammy London, 216-987-4812 tamara.london@tri-c.edu