Moving From Art to the ER
After once looking to become an art teacher, Jillian Dennison earns a nursing degree from Tri-C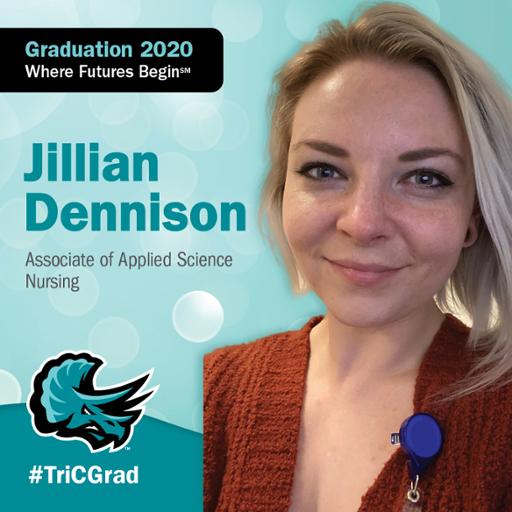 Jillian Dennison clocked into the Cleveland Clinic as an administrative assistant for the past four years. The job gave her a front row seat to watch the life-changing work done by nurses at the hospital. 
Now, she's set to join them on the front lines of health care after graduating from the Nursing Center of Excellence at Cuyahoga Community College (Tri-C®). 
Dennison is set to earn an Associate of Applied Science degree in nursing from Tri-C this month. She'll soon be putting her new skills to use in the Cleveland Clinic Emergency Department. 
Five years ago, Dennison never would have imagined herself working in hospital scrubs. 
She took an artistic path after high school and planned to teach. Dennison earned a bachelor's degree in art education in 2012 and a Master of Humanities degree with a focus in art and visual media in 2014. 
"My direction seemed pretty clear," said the 31-year-old from Euclid. 
Then, just like that, it changed. 
She took an administrative assistant position at the Cleveland Clinic in 2016 while waiting for a teaching opening in an art classroom. Dennison needed a paycheck after she and her husband, Andrew, moved back to Northeast Ohio after his discharge from the U.S. Navy. 
Her job involved providing support for nursing directors and managers. Dennison said her admiration for nurses grew the more she observed them providing comfort and care to hospital patients. 
"Nurses do so much," Dennison said. "They impact the lives of their patients in a way that can make or break them." 
Dennison enrolled at Tri-C in 2017 to join their ranks. Course by course over three years, she worked toward graduation while balancing her studies with job duties. Clinical rotations took her to Fairview Hospital and Hillcrest Hospital. 
"My experience at Tri-C was excellent," Dennison said. "After going through the program, I'm ready to make a difference." 
Cuyahoga Community College will celebrate the academic achievements of its newest graduates during a Dec. 17 virtual commencement ceremony. Check our News and Events page leading up to the online event as we highlight members of the Class of 2020.
December 11, 2020
John Horton, 216-987-4281 john.horton@tri-c.edu