Hot at the Plate: Tri-C Ballplayers Keep Slugging
Dominick Bucko and Lexi Rehm honored by conference after a dominating week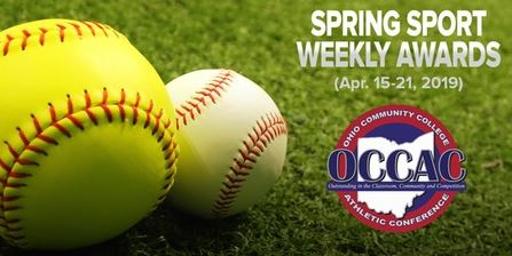 The hits and awards keep coming for the Cuyahoga Community College (Tri-C®) baseball and softball teams.
Tri-C's Dominick Bucko and Lexi Rehm claimed baseball and softball Player of the Week honors from the Ohio Community College Athletic Conference after pounding opposing pitchers in games played April 15-21.
Bucko batted .500 (11-22) with three home runs, three doubles and a triple in six games. The outfielder also scored 10 runs and added nine RBI while powering the Triceratops to five wins during the week.
This is his second OCCAC Player of the Week award this month. The sophomore from Saxonburg, Pennsylvania, is working toward an Associate of Arts degree at Tri-C.
Rehm made the most of the softball team's two games, hitting .667 (6-9) with three home runs and seven RBI. She is also a two-time Player of the Week winner after claiming the award in March 2018.
Five different Tri-C softball players have won the weekly conference award the past five weeks. Rehm, a sophomore from Wooster, is studying criminal justice at the College.
Tri-C's nationally ranked softball team is now 28-6 on the season and atop the conference standings. The baseball team is 22-15 and second in the OCCAC. Both teams play their home games at Tri-C's Western Campus in Parma.
For full team schedules, visit www.tri-c.edu/athletics.
April 23, 2019
John Horton, 216-987-4281 john.horton@tri-c.edu