Finishing the Job
Phil Salem returns to Tri-C after 18 years away to complete his degree in automotive technology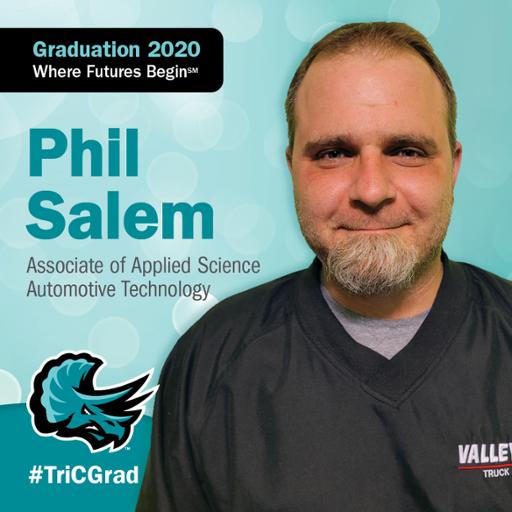 Phil Salem built a career in auto dealership service centers. A combination of hard work, determination and a lot of luck boosted him into a director's office. "Nothing came easy," Salem said. 
In looking back, he realized a decision made almost two decades ago contributed to that long and rough road. So Salem did what he's trained to do: He fixed it. 
The 40-year-old returned to Cuyahoga Community College (Tri-C®) this year to restart a stalled journey toward a degree. He'll graduate from Tri-C this month with an Associate of Applied Science in automotive technology.
 "I'm not the sort of guy who leaves a job unfinished," Salem said. "This took forever, but it'll be done. That's important to me." 
Salem never expected it to take this long to reach commencement after enrolling at Tri-C in 2000. He had set his sights on becoming an automobile technician and landed in the Ford ASSET (Automotive Student Service Educational Training) program. 
He earned good grades before suddenly stopping a few classes short of graduation in 2002, when family needs demanded his attention. His focus shifted to bringing home a paycheck. 
"You know the old saying, 'Life happens?'" Salem asked. "Well, it happened." 
Salem used his training at Tri-C to find jobs working on cars. He spent time at a few Northeast Ohio dealerships, where he gained valuable experience but found little opportunity for advancement. 
Basically, Salem felt like he hit a ceiling. "Because I didn't have my education, it seemed like a lot of people put a limit on my potential." 
That changed after he arrived at Valley Ford Truck Center in Valley View in 2013. He moved up to a service manager position in 2015. Three years later, he made the jump to the service director's office. 
The missing credential from Tri-C, however, stayed on his mind — especially as he advised up-and-coming technicians to complete the Ford ASSET program at the College. 
"If I wanted my message to mean something, I had to take my own advice," Salem said. 
So he re-enrolled at Tri-C to fill in his missing degree requirements, including a pair of math courses. He's currently taking sociology and an independent study course to add in his final credit hours. 
The father of three from Garfield Heights said he's using his homework sessions to set an example for his sons Ray, 7, and Vincent, 4. (His youngest, Edward, is just 5 months old.) 
"They watch me work, and I tell them that it's difficult," Salem said. "But that's what makes this worthwhile. If something is easy, everyone does it. The effort that goes into an experience is what makes it valuable. 
"I needed to do this, and I'm glad that I did. I'm going to be college graduate. That's something I've waited a long time to say." 
Cuyahoga Community College will celebrate the academic achievements of its newest graduates during a Dec. 17 virtual commencement ceremony. Check our News and Events page leading up to the online event as we highlight members of the Class of 2020.
December 06, 2020
John Horton, 216-987-4281 john.horton@tri-c.edu