A High Note: Tri-C JazzFest Academy Student Repeats as 'DownBeat' Winner
Ava Preston honored for second year in the 42nd annual student music awards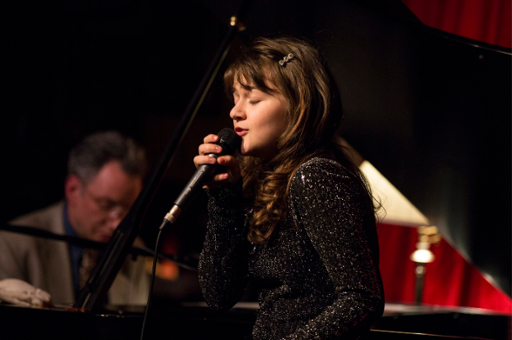 Ava Preston, a Tri-C JazzFest Academy student at Cuyahoga Community College (Tri-C®), once again hit all the right notes in the annual DownBeat Student Music Awards.
The 14-year-old jazz singer repeated as the Vocal Jazz Soloist winner in the Junior High School category in the annual student competition.
Preston, of Solon, is a third-year student in the JazzFest Academy within Tri-C's Creative Arts Center of Excellence. She studies with jazz trumpeter Dominick Farinacci, the academy's director, at Metropolitan Campus in Cleveland.
The teen is a frequent performer at Northeast Ohio venues, and her soulful voice has been compared to singers such as Norah Jones, Amy Winehouse and Corinne Bailey Rae.
She has a show scheduled for May 2 at BLU Jazz+ in Akron.
DownBeat celebrates high-caliber jazz education with its annual awards program, now in its 42nd year. Hundreds of musicians, music educators and music industry professionals received their first international recognition as DownBeat Student Music Award winners. 
The competition asks students to record their music and submit it for judging by professional musicians and educators from across the country. Judging criteria are based on musicianship, creativity, improvisation, technique, sound quality and balance, excitement and authority.
JazzFest Academy is part of Tri-C's Creative Arts Academy, a preparatory program for pre-college students. Visit www.tri-c.edu/creative-arts-academy or call 216-987-6145 for more information.
April 26, 2019
John Horton, 216-987-4281 john.horton@tri-c.edu