10KSB Salutes Graduates at Outdoor Ceremony
Event at Aut-O-Rama drive-in recognizes 46 grads from past year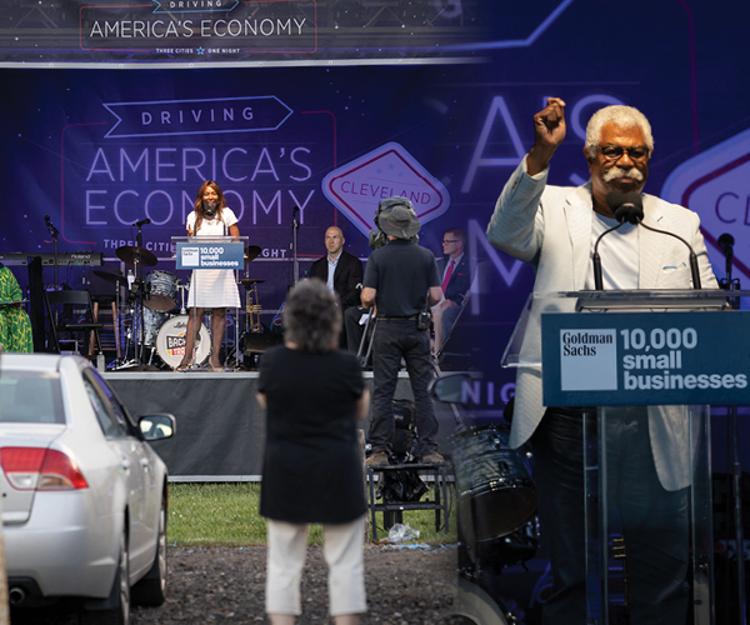 This spring, Cuyahoga Community College (Tri-C®) has returned to honoring its graduates with much-deserved in-person ceremonies, after a year of virtual observances. The Goldman Sachs 10,000 Small Businesses (10KSB) program is no exception.

In a June 7 ceremony, the College celebrated the achievements of 46 members of the 10KSB Fall 2020 and Spring 2021 cohorts.

As with the College's main commencement ceremonies June 9, the 10KSB ceremony was held outdoors. The Aut-O-Rama Twin Drive-In Theatre in North Ridgeville played host to the event, which included a number of College, regional and business leaders, including William Gary, Tri-C's executive vice president of workforce, community and economic development; U.S. Rep. Anthony Gonzalez; Cleveland City Council President Kevin Kelley; and Goldman Sachs President and COO John Waldron, among others.

Greater Cleveland was one of three metropolitan areas nationwide to be selected by Goldman Sachs for in-person graduation events. The others were held in Baltimore and Dallas, also June 7.

"Cleveland is a city with a bounty of tireless, talented entrepreneurs who transformed their small business ideas into reality," said Tri-C President Alex Johnson. "Goldman Sachs 10,000 Small Businesses helps provide an opportunity for our entrepreneurs to have unparalleled access to capital, support services, and a nationwide network of like-minded, high-achieving business owners. We are thrilled today to celebrate and cheer on the graduates who embody the entrepreneurial spirit of our city."

Waldron echoed Johnson's words regarding the entrepreneurial spirit that exists in the Cleveland business community.

"It has been our privilege to work with Cleveland's finest small business owners who thrive in the face of challenge," Waldron said. "Our graduates came in ready to work, learn and grow into even stronger business owners and community leaders. Today's celebration is proof that Cleveland's small business owners are truly one of a kind."

The 10KSB program is a nationwide Goldman Sachs initiative to help entrepreneurs create jobs and economic opportunity in their communities by providing access to education, capital and business support services. Since launching at Tri-C in 2012, the 10KSB program has produced more than 700 graduates.
June 10, 2021
Erik Cassano, 216-987-3577 or erik.cassano@tri-c.edu