Tri-C Commencement Celebrates Nearly 2,200 Spring Graduates
Commencement returns in person for first time since pandemic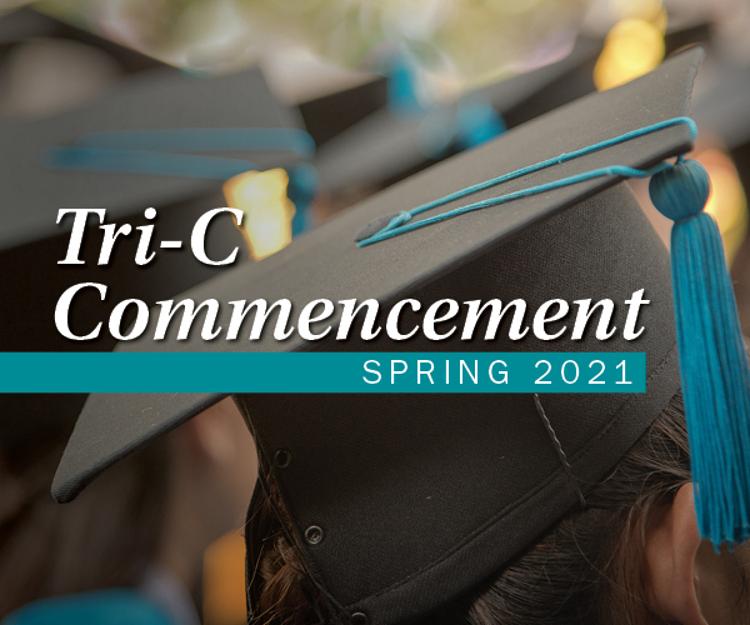 Cuyahoga Community College (Tri-C®) will celebrate the academic achievements of nearly 2,200 petitioning graduates during its Spring Commencement on Wednesday, June 9.

After holding all commencement ceremonies virtually in 2020 due to the COVID-19 pandemic, this spring's ceremonies will be held in person at Byers Field at Robert M. Boulton Stadium in Parma. Graduates will be honored at a pair of ceremonies scheduled for noon and 4 p.m. A virtual recognition ceremony will take place at 7 p.m. It will be available for viewing at tri-c.edu/commencement and on the College's Facebook page.

The College has been asked to confer more than 2,500 associate degrees and certificates of completion this spring. The total reflects the College's commitment to student success and building a stronger community through education.

The pool of graduates includes more than 200 Phi Theta Kappa Honor Society members, eight Jack, Joseph and Morton Mandel Scholars, 68 from the College Credit Plus program and 21 members of the first Tri-C Say Yes Scholars program cohort. Say Yes provides scholarships and wraparound services for eligible students in the Cleveland Metropolitan School District.

"This year's class is a testament to the spirit of perseverance that exists at Tri-C," said Alex Johnson, president of the College. "Through all of the challenges they've faced in the past year, our graduates never lost sight of their goals and dreams, and we are proud to finally be able to recognize them in person once again."

The College will also award honorary degrees to Beth E. Mooney and Timothy L. Tramble Sr.

Mooney served as chairman and CEO of KeyCorp from 2011 until her retirement in 2020. She has been recognized by Forbes as one of "The World's 100 Most Powerful Women" and by Fortune as one of the Top 50 "Most Powerful Women in Business." She is a past president of the Federal Advisory Council and serves on the boards of directors at major organizations including AT&T, Ford Motor Company and the Cleveland Clinic, where she is board chair.

Tramble has been president and CEO of the Saint Luke's Foundation since 2020, overseeing the organization's work in advancing health equity throughout Cleveland and Cuyahoga County. He previously served as a community development at Burten, Bell, Carr Development Inc., where he oversaw multimillion-dollar real estate development projects in Cleveland's poorest neighborhoods. Prior to that, he spent five years in various roles at the Cleveland Department of Public Health.

The student speaker at commencement will be Julie Marie Wetzel of Westfield Township, who is graduating with an Associate of Arts degree with a focus in art therapy.

Wetzel was involved in many campus organizations and activities during her time at Tri-C, serving as a Phi Theta Kappa officer, participating in the Tri-C Art Club and InterVarsity Christian Fellowship, and serving as president of Tri-C chapter of Circle K International, a collegiate program of Kiwanis International.

Wetzel is one of many high-achieving students receiving Tri-C degrees Wednesday. To read more about Wetzel, in addition to selected other classmates, visit the College's graduate stories page.

Due to the College's ongoing commitment to the health and safety of students, their families, faculty and staff, each in-person ceremony will be limited to 300 students and 1,200 guests.

Byers Field at Robert M. Boulton Stadium is located at 7600 Day Drive in Parma.
June 08, 2021
Erik Cassano, 216-987-3577 or erik.cassano@tri-c.edu