Meet Valencia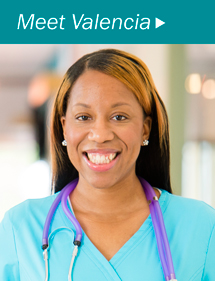 Valencia Collins graduated from high school more than ten years ago. She secured a job in the medical field, and knew she needed more education to build a career. She had taken classes at Tri-C, so she explored the possibility of a degree.
She ended up enrolling in the College's successful nursing program. While she encountered personal obstacles along the way, Valencia credits the financial, professional and personal support from the College and its instructors with assisting her in earning a Nursing degree.
Today, Valencia has a job doing what she loves, earning a salary that supports her and her family.