Gallery East
Exhibits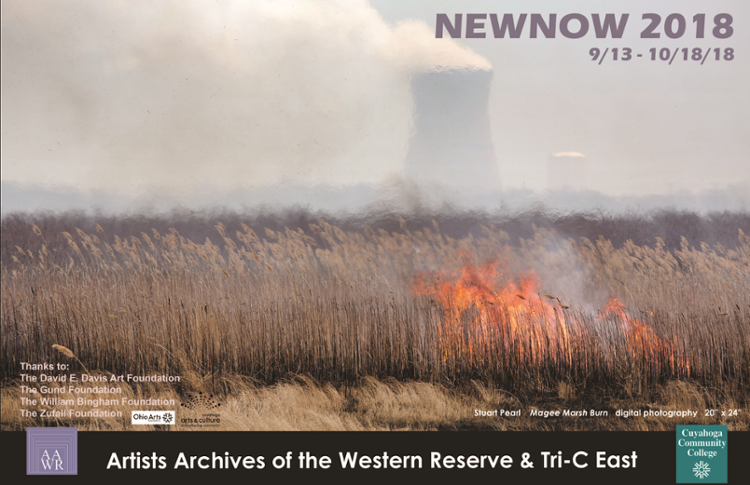 Tri-C Welcomes 'NewNow 2018' Art Exhibit
Competitive art exhibition opens Sept. 13 at Eastern Campus gallery
 
HIGHLAND HILLS — Gallery East  -  Eastern Campus of Cuyahoga Community College (Tri-C®) presents the  NewNow 2018, a biannual competitive art exhibition presented in collaboration with the Artist Archives of the Western Reserve (AAWR) opened on September 13th.  A very successful showing with over 120 guests, artists, family and friends in attendance to this event.  
 
The competitive art exhibition features 55 works selected by Steven Matijcio, curator of the Cincinnati Contemporary Arts Center, one of the oldest contemporary art institutions in the United States. Matijcio juried the show.
 
More than 170 artists submitted nearly 550 entries for consideration for NewNow 2018.  Matijcio selected three works for cash awards, First place - John Carlson, Dark was the Night, Second place - William Martin Jean, Kyoto Door, Third place - Ben Hauser, Mystery of Mass Movements, the Mystery of the Garden, and the Peoples Choice Award, chosen by popular vote at the reception, Susan Donovan Lowe, Into the Blue.
NewNow 2018 will be on view Sept. 13 through Oct. 18 in Gallery East, located at Tri-C Eastern Campus, East Education Center, (EEC Bdg.),room 135. Gallery hours are 10:30 a.m. to 3:30 p.m. Mondays through Thursdays.
 
Free parking is available on campus, located at 4250 Richmond Road in Highland Hills, Harvard Rd. Entrance, Lots H1,2,3, near the Education Center building. For more information on the exhibit, call Terri Patton 216-987-2473 or visit www.tri-c.edu/galleryeast.
NewNow 2018 Art Exhibit Opening Reception