Gallery East
Exhibits
Art of Empowerment - The 20th Annual Art and Healing Exhibition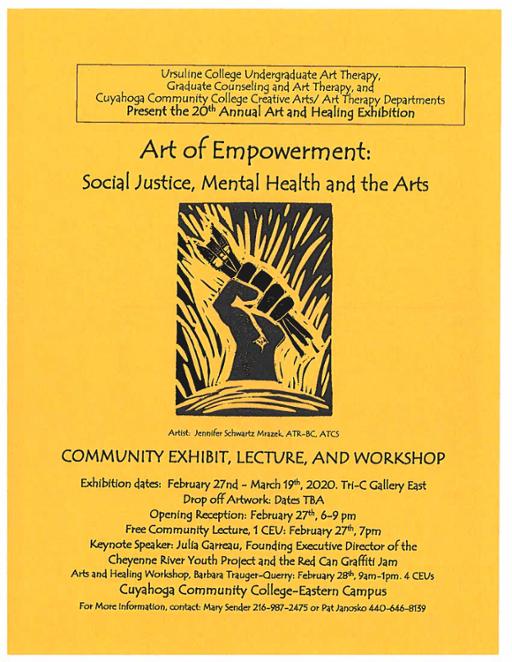 "Art of Empowerment - Social Justice, Mental Health & the Arts"  
Click below to see all the photos taken at the opening reception on Thursday, Feb. 27, 2020.
 https://myglobalarts.com/photos/Tri-C-022720           
Hello From Gallery East,
We are excited to present Art of Empowerment: Social Justice, Mental Health, and Art Exhibition online.  We opened this exhibit on Feb. 27 with great attendance and support from students, friends, faculty, staff and community, but soon had to close the gallery due to COVID-19. Since that time Blake and I have been working with a new platform design. Once created we enlisted help from you, Madeline Shepherd, Kristin Broka, and Stephanie Metzger of the Integrated Communications department, to present this exhibit again online to the Tri-C family, campus-wide, and beyond to a broader audience via Tri-C YouTube. Any questions for additional information for Art Therapy Dept. contact Mary Sender at (216) 987-2475.
Please enjoy the video below of the Art Therapy Exhibition.  
Enjoy and Stay Healthy, Safe and Peaceful...
Terri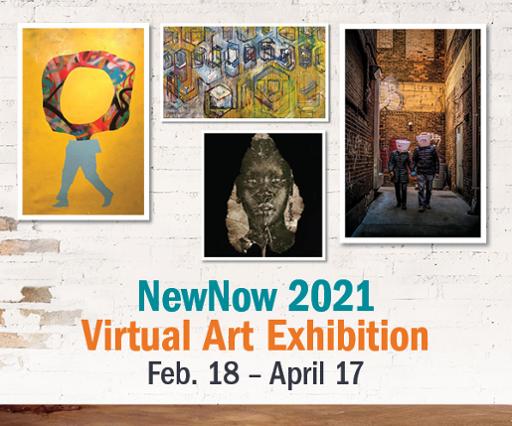 Tri-C Presents 'NewNow 2021' Virtual Art Exhibit
College and Artists Archives of the Western Reserve partner on exhibit opening Feb. 18
The work of 63 regional artists will be showcased in NewNow 2021, a virtual art exhibition presented by Cuyahoga Community College (Tri-C®) and Artists Archives of the Western Reserve. 
NewNow 2021 will be on view Feb. 18 through April 17 at artistsarchives.org. Much of the work chosen for the competitive exhibition speaks to the upheaval of the previous year and the tumultuous energy propelling society forward. 
The exhibition was juried by Cat Sheridan, curator of the Ohio Arts Council's Riffe Gallery.  Preview of the show and remarks from Creative Arts Division, Dean Paul Cox, Associate Dean, Connie Edwards, Gallery East Director, Blake Cook and gallery coordinator, Terri Patton. The hosts Mindy Tousely, Executive Director of AAWR and Megan Aves coordinator/project manager.
https://https://www.tri-c.edu/news-and-events/news/tri-c-presents-newnow-2021-virtual-art-exhibit.html
You can check out the live video of the remarks with the hosts, guests, artists, the exhibit, and the awards given to the winners of this year's competition on FaceBook Live. Just click links below and enjoy!
https://https://www.facebook.com/search/videos?q=artist%20archives%20of%20the%20western%20reserve
https://https://www.facebook.com/watch/live/?v=136350478351135&ref=search