Gallery East
Exhibits
Art of Empowerment - The 20th Annual Art and Healing Exhibition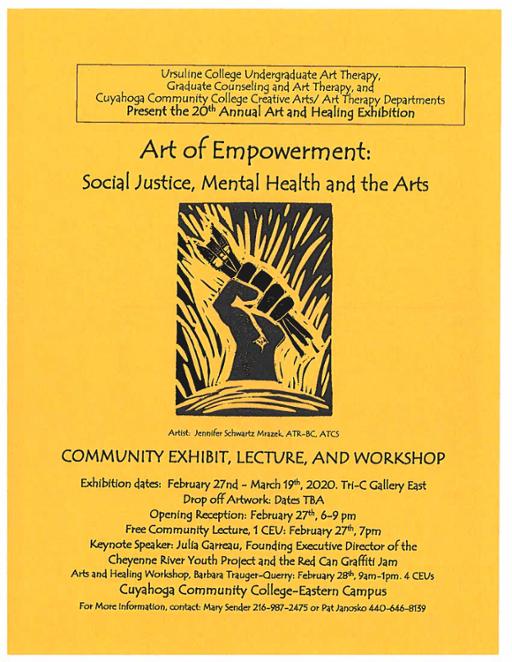 "Art of Empowerment - Social Justice, Mental Health & the Arts"  

The Annual Tri-C Art Therapy Departments & Ursuline College 20th Art & Healing Exhibit, Lecture & Workshop.
 Give more power to the people, give the people what they want…what they need…
The multi-media art exhibit titled, The Art of Empowerment, successfully emphasizes the Social Justice, Mental Health, the Arts and Environmental issues of today and the desperate need for change.  The representation of these worldwide concerns were displayed effectively as well as soul-fully.

For any additional information or questions regarding the Art therapy Dept. contact Mary Sender at 216-987-2475  Click on www.myglobalarts.com/art for more details, forms and additional information.
Click below to see all the photos taken at the opening reception on Thursday, Feb. 27, 2020.
 https://myglobalarts.com/photos/Tri-C-022720
 ***ATTENTION***            
Hello From Gallery East,
We are excited to present Art of Empowerment: Social Justice, Mental Health, and Art Exhibition online.  We opened this exhibit on Feb. 27 with great attendance and support from students, friends, faculty, staff and community, but soon had to close the gallery due to COVID-19.  Since that time Blake and I have been working with a new platform design. Once created we enlisted help from you, Madeline Shepherd, Kristin Broka, and Stephanie Metzger of the Integrated Communications department, to present this exhibit again online to the Tri-C family, campus-wide, and beyond to a broader audience via Tri-C YouTube.  
Please enjoy the video below of the Art Therapy Exhibition.  
Enjoy and Stay Healthy, Safe and Peaceful...
Terri