Gallery East
Exhibits
Art of Empowerment - The 20th Annual Art and Healing Exhibition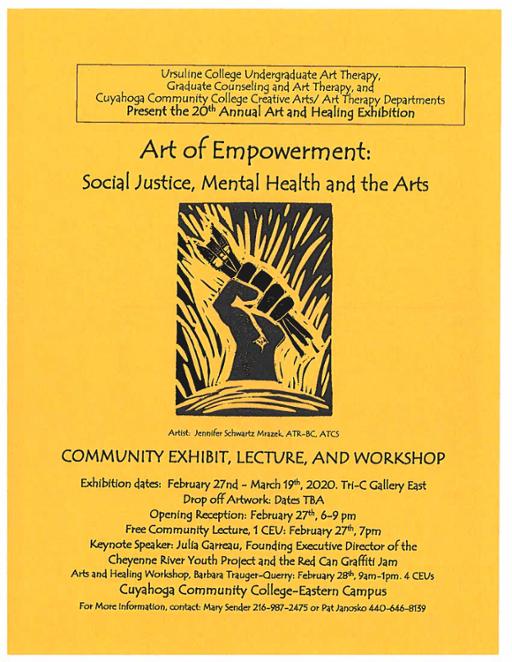 "Art of Empowerment - Social Justice, Mental Health & the Arts"  

The Annual Tri-C Art Therapy Departments & Ursuline College 20th Art & Healing Exhibit, Lecture & Workshop.
 Give more power to the people, give the people what they want…what they need…
The multi-media art exhibit titled, The Art of Empowerment, successfully emphasizes the Social Justice, Mental Health, the Arts and Environmental issues of today and the desperate need for change.  The representation of these worldwide concerns were displayed effectively as well as soul-fully.

For any additional information or questions regarding the Art therapy Dept. contact Mary Sender at 216-987-2475  Click on www.myglobalarts.com/art for more details, forms and additional information.
Click below to see all the photos taken at the opening reception on Thrusday, February 27, 2020.
 https://myglobalarts.com/photos/Tri-C-022720
 ***ATTENTION***            
 Hello From Gallery East- 
Gallery East is creating a viewing platform for our new exhibitions for the fall/winter semester.  Due to the Covid-19 crisis, the Art Therapy art exhibit was cut short with the closing of the gallery.  We want to spotlight their exhibit again.  So we are very happy to begin our season with Tri-C Art Therapy Department, Art of Empowerment: Social Justice, Mental Health and the Arts Exhibition!  More details are coming soon!!