Gallery East
Exhibits
Art of Empowerment - The 20th Annual Art and Healing Exhibition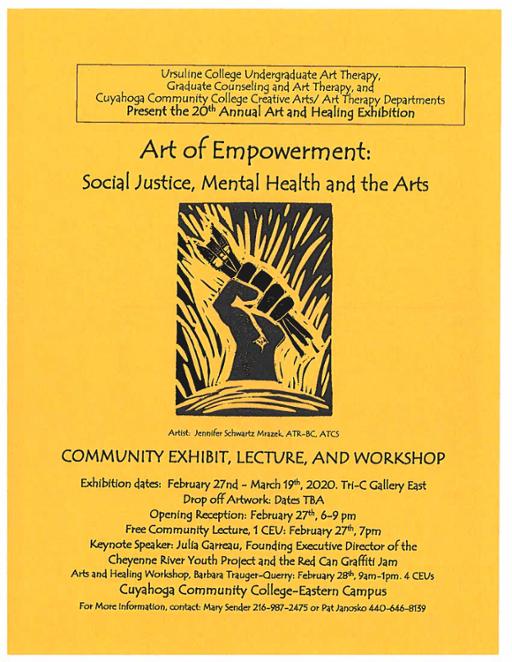 "Art of Empowerment - Social Justice, Mental Health & the Arts"  

The Annual Tri-C Art Therapy Departments & Ursuline College 20th Art & Healing Exhibit, Lecture & Workshop.

February 27 & 28 at Gallery East, Tri-C Eastern Campus  4250 Richmond Rd, EEC Bldg. Room 134, Highland Hills, OH 44122

Feb. 27 - Opening Reception 6pm to 9pm in Gallery East.  At 7pm, keynote speaker Julia Garreau, will present lecture on empowerment, social justice & the arts. In addition, there will be artwork, food, auction items, interaction station and more. 

Feb. 28 - 9am to 1pm, in the Mandel Center, Room 122  a Creative Workshop will be presented by Barbara Trauger-Querry. 

Call Mary Sender for questions or additional information and remission of fee code at 216-987-2475  Click on www.myglobalarts.com/art for more details, forms and additional information.