Gallery East
Exhibits
Art of Empowerment - The 20th Annual Art and Healing Exhibition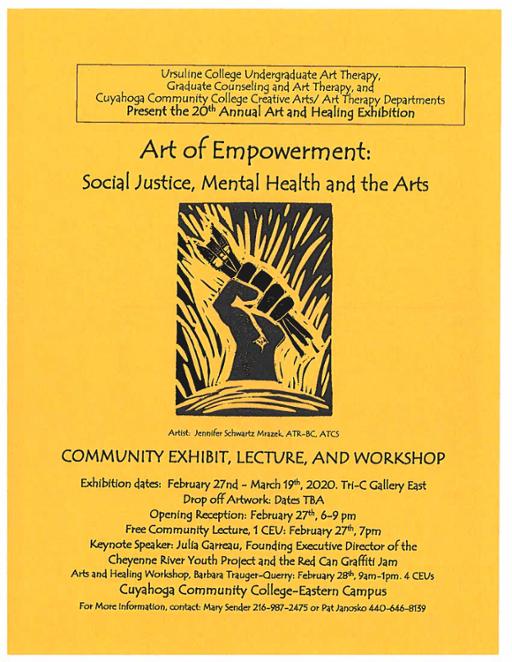 "Art of Empowerment - Social Justice, Mental Health & the Arts"  

The Annual Tri-C Art Therapy Departments & Ursuline College 20th Art & Healing Exhibit, Lecture & Workshop.
 Give more power to the people, give the people what they want…what they need…

Nearly 200 people weathered the bitter cold and snowy evening to come out and support the 20th Annual Art Therapy – The Healing Arts Exhibition.  The opening reception was on Thursday, February 27th - 6pm to 9pm in Gallery East, located at Tri-C Eastern campus, 4250 Richmond Rd., EEC Bldg. room 134, Highland Hills, OH 44122.  
The crowd waited patiently outside the doors of Gallery East for fifteen minutes before we opened, which is one of several examples of loyalty that the multi-generational followers display for the art therapy exhibition each year. 

The multi-media art exhibit titled, The Art of Empowerment, successfully emphasized the Social Justice, Mental Health, the Arts and Environmental issues of today and the desperate need for change.  The representation of these worldwide concerns were displayed effectively as well as soul-fully.

For any additional information or questions regarding the Art therapy Dept. contact Mary Sender at 216-987-2475  Click on www.myglobalarts.com/art for more details, forms and additional information.
Click below to see all the photos taken at the opening reception on Thrusday, February 27, 2020.
 https://myglobalarts.com/photos/Tri-C-022720
***ATTENTION***IMPORTANT CHANGES TO NOTE
Hello From Gallery East- 
As of Today March 18, 2020 Gallery East will be Closed until futher notice.

We received instructions from our Dean of Creative Arts, Paul Cox PhD, that in keeping with the latest protocols for the coronavirus (COVID-19), Cuyahoga Community College (Tri-C®) is taking proactive steps to ensure the safety and health of the College wide community and our visitors, therefore unfortunately all College-sponsored campus events which includes the upcoming Student Arts shows at East, Metro and West, are canceled.    

We apologize for any inconvenience and thank you for understand these latest changes.  For any questions or concerns, please feel free to contact me.

Thank You,
Terri J. Patton
(216) 987-2473