2021 Democracy Fellows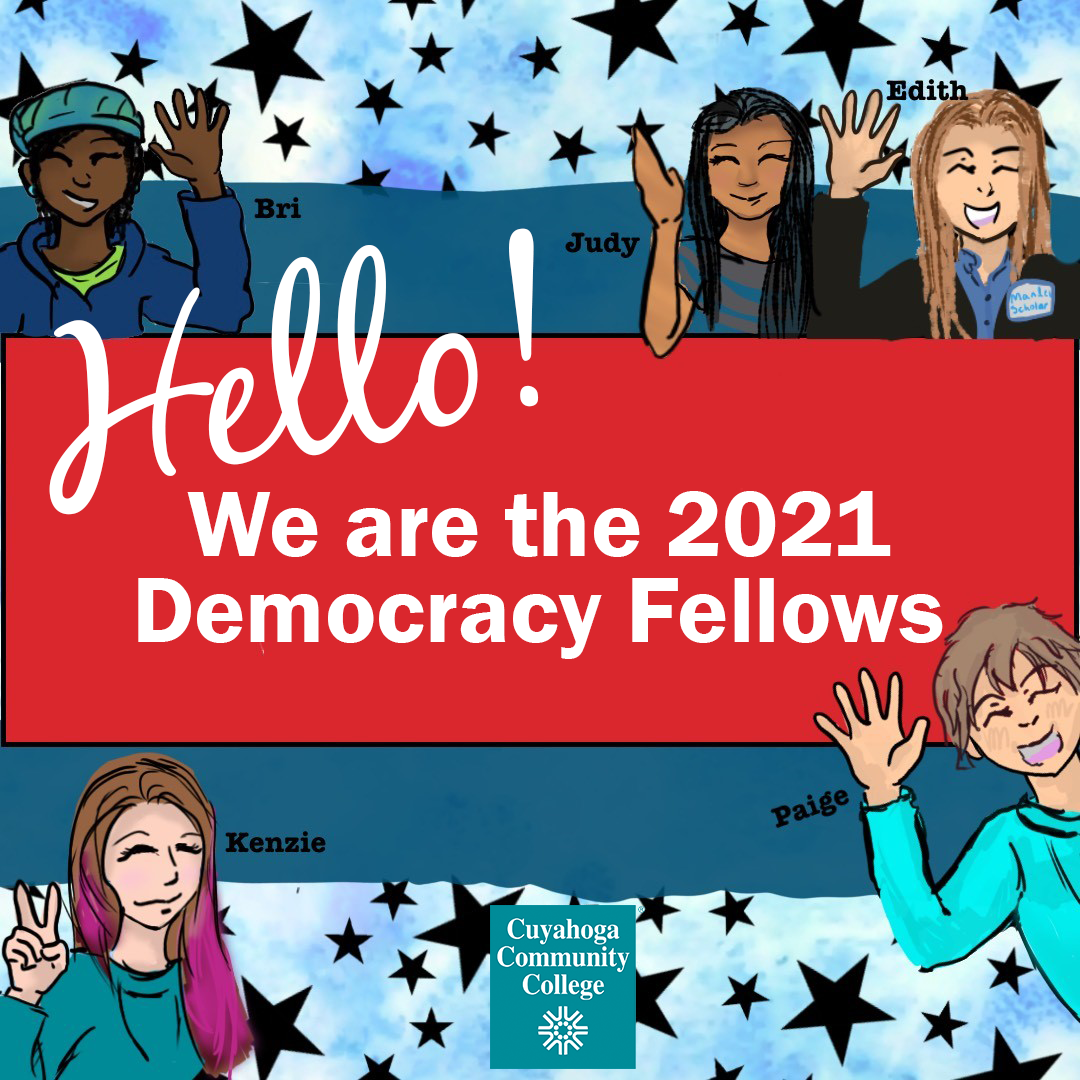 The Tri-C Democracy Fellows program is a nonpartisan, national effort held in conjunction with Campus Vote Project to support student civic engagement and voter education. 
In 2021, we welcome our fourth cohort. Five scholars are serving at Tri-C as Democracy Fellows in 2021, working on campus through the College Government Relations office. Their overall goal? To support a basic tenet of the College - engage fellow students in civic engagement and empower them through voter education.
The 26th Amendment turns 50!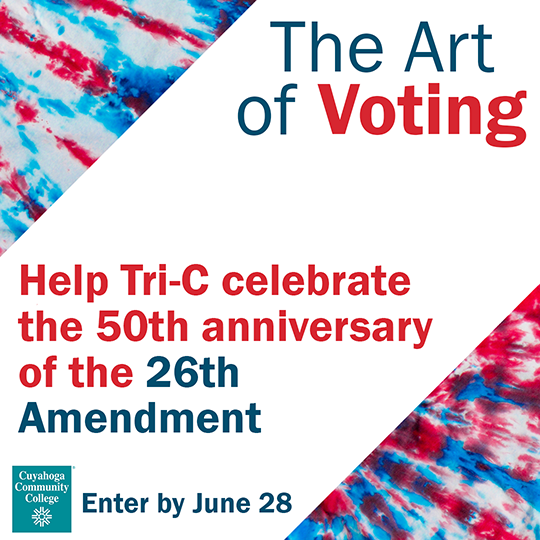 2021 is an anniversary year for student voter rights. On July 1, we're celebrating the 50th Anniversary of the 26th Amendment, which lowered the voting age to 18. For the five weeks leading up to that date, beginning June 3, our Democracy Fellows invite you to join them in weekly social media posts, conversations, and an Art of Voting competition. 
Five Fellows, five Thursdays. It all starts June 3. Join us!
June 3 - The Art of Voting Competition
Tri-C Democracy Fellow Paige R. has the lead on this effort. 
Tri-C students, faculty, staff and alumni are invited to express what voting means to you through your art - including music, poetry, photography, more. Details, rules and entry form at the link.
Thank you to our Celebrity Voting judges joining us from national student civic engagement partnerships, including Alexis Crosby, Ohio State Director, Campus Vote Project.
The Art of Voting Winners
Congrats to Kyle Ray and Charese Harrison, winners of our Art of Voting contest. We asked the Tri-C community to share what voting means to you through artwork of all mediums. Special thanks to our celebrity guest judges, Clarissa Unger, Director of Students Learn Students Vote Coalition, and Alexis Crosby, Ohio State Coordinator for Campus Vote Project. Read Kyle's and Charese's entries, and watch Paige's readings of their work below.
See What We're Up To
Paige
Paige Ray - 2021 Democracy Fellow and Mandel Scholar - is the artist behind this year's Democracy Fellows illustration shown at the top of the page. Other arts in her talent toolkit include: photography, collages, painting, writing and acting. We're looking forward to seeing Paige's art help showcase the Democracy Fellows' projects throughout the year.
Kenzie
Journalism major Kenzie Brown reimagined the road to the 26th Amendment, writing a series of news articles documenting the lead-up to the July 1, 1971 Ratification, as if she were living in that time.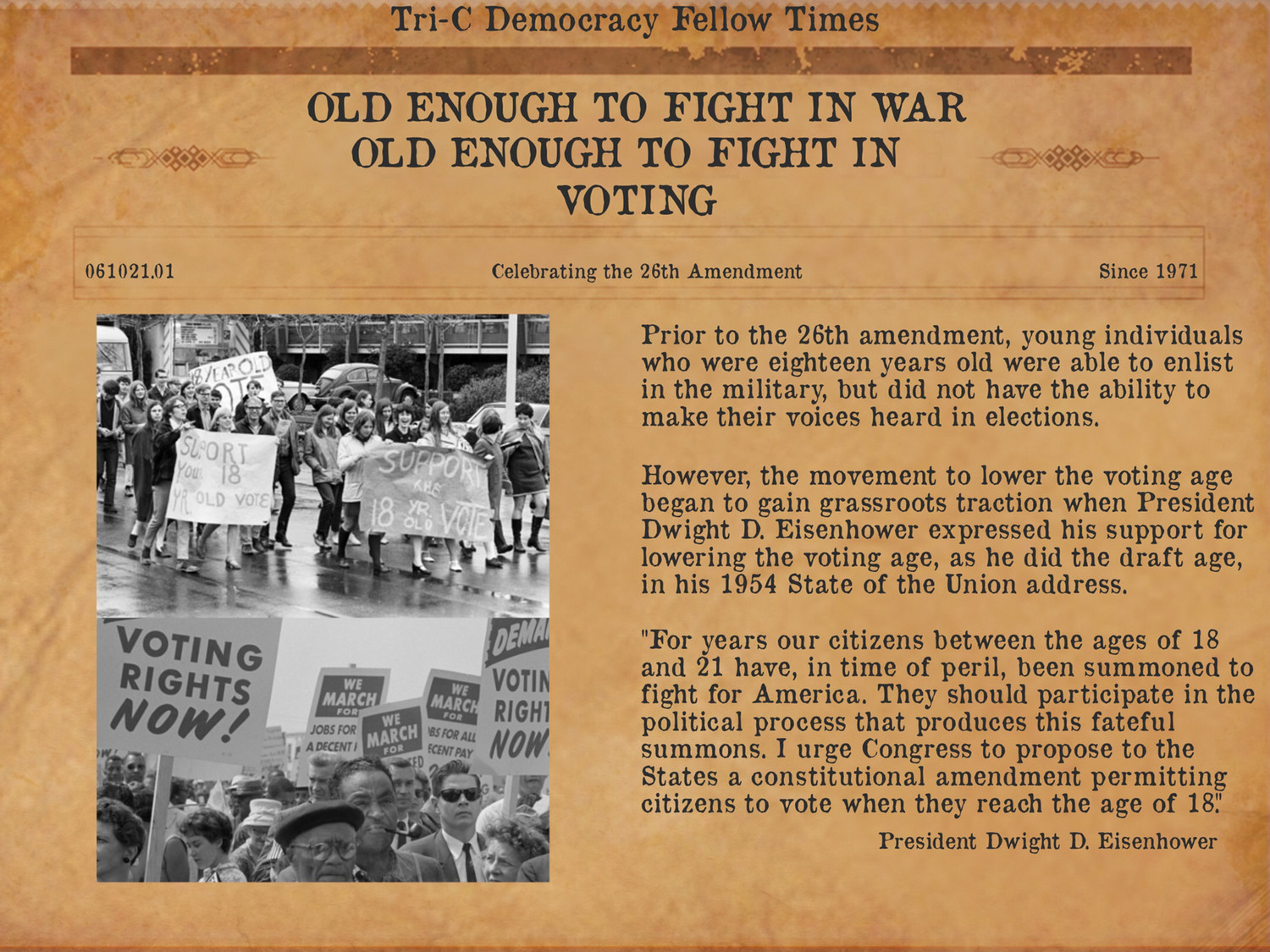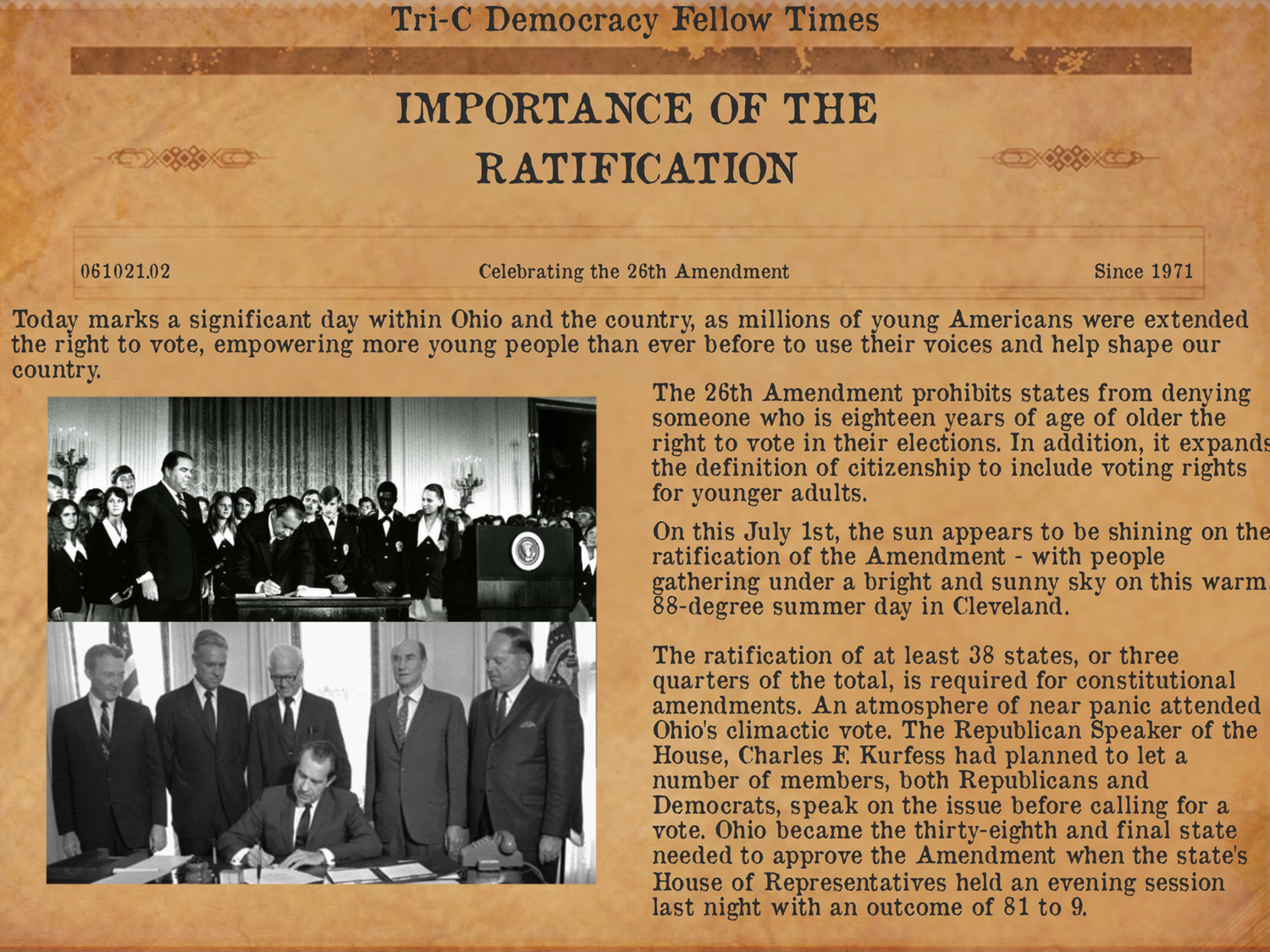 Bri
In celebration of the 26th Amendment's 50th anniversary, Tri-C Democracy Fellow & Mandel Scholar Bri shares a look at heroes of the march to voting rights. She'll share about iconic activist John Lewis, as well as two Black teen activists from the 1960s - Diane Nash and Carolyn Q. Coleman - whose work helped lead the way to lowering the voting age to 18 on July 1, 1971.
Judy
As her salute to the upcoming 50th Anniversary of the 26th Amendment, Tri-C Democracy Fellow & Mandel Scholar Judy invited her cohort to share their thoughts on What Voting Means to Me. She also gave everyone involved - herself included - a fun Q&A about the 26th Amendment. See if you know the answers too!
Edith
Tri-C Democracy Fellow and Emerging Leader Edith Cabrera's interest in women's history and voting stems from her personal family history. On this 50th Anniversary of the 26th Amendment, and in honor of her grandmother who worked for the President of Mexico before she was able to vote, Edith invites anyone who hasn't done so to register to vote.