Military Spouse Information
Tri-C Welcomes Military Spouses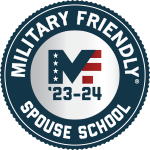 Certified
Military Spouse Friendly
Cuyahoga Community College knows that military spouses are strong, independent, and used to new surroundings and adapting to change. Tri-C offers numerous programs that are ideal for military spouses.
Associate of Arts Online Degree
Tri-C's Associate of Arts is 100% online, has the lowest tuition cost in the entire state, and has countless flexible options to fit your lifestyle. The OAA is a 2-year degree with full transferability to any Ohio public college or university.
Program offerings allow you to explore humanities, history, technology, math, media, design – all at your own pace.
Captioning & Court Reporting Program
Court reporting is an engaging and exciting option for anyone who loves technology and criminal justice. Turn your technological abilities, attention to detail, and love of the profession into an entire career using state-of-the-art technology.
Program offerings allow anyone interested in steno machines, voice transcription, and digital recording to work together on court reporting. All of these options have online offerings and even a free mini-course to get you started.
Programmers, developers, and software engineers design and develop many types of software, including computer games and entertainment applications, mobile applications, business applications, database systems, computer systems, and interactive web sites.
Through this totally online program, you can develop competencies in designing, implementing, integrating, testing and maintaining software systems (including mainframes, websites, etc) using a variety of languages and technologies.