Staff
Gina Brinker
Manager, Student Equipment Services
Gina Brinker has staffed the media cages at the Metropolitan and Western campuses for more than 13 years, working her way up from work-study student to College-wide manager of Student Equipment Services.

Gina earned two associate degrees from Tri-C before moving on to Full Sail University, where she graduated with a bachelor's degree in digital cinematography.  She is currently pursuing a master's degree in instructional design. Suffice to say, she enjoys learning!

She encourages Tri-C students to embrace education — with all its challenges — and to push through into their futures.
Virginia Beischlag
Media Arts Technician, Eastern Campus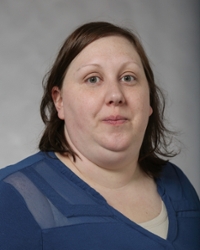 Virginia Beischlag has served as script supervisor on projects including Assassins Code and White Boy Rick. As a student, she worked on the Terence Blanchard Project (Tri-C JazzFest, 2017) and served as script supervisor on College productions of Use of Force and Sangin' through the Student Production Office.

Virginia earned an associate degree in digital video and filmmaking from Tri-C. Her experiences as a student and in the workplace have provided her with a unique set of skills that she applies daily in her role as media arts technician.
Ian Kroyer
Media Arts Technician, Metropolitan Campus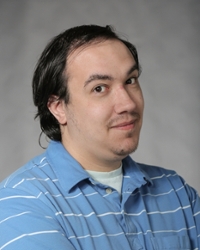 Ian Kroyer graduated from Tri-C in 2014 with two associate degrees and a digital editing certificate. He spent two years as an SES student assistant before returning as a part-time staff member. Outside of his 20+ hours at the cage each week, Ian works as a freelance editor for various videography companies.
Ann Solstrand
Media Arts Technician, Metropolitan Campus
Growing up on a small sheep farm in Western Norway, Ann Solstrand learned to be responsible, honest, patient and caring toward others. But don't let her fool you — she's also tough enough to get things done, no matter what it takes!

Ann came to the U.S in August 2013 and joined the SES team at Tri-C the following year. She has a broad range of experience with printers, media equipment and customer service, having worked in cages and print labs at the Metro and Western Campuses.

A Tri-C graduate with an associate degree in photography, Ann is beginning to explore the world of digital filmmaking.
Olivia Villaseñor
Media Arts Technician, Western Campus
Olivia Villaseñor graduated from Tri-C's Media Arts and Filmmaking (MARS) program in 2017 and has continued coursework in photography to deepen her knowledge of lighting and cinematography.

As a student assistant in the Student Production Office, Olivia produced commercials for Tri-C JazzFest, Cleveland Eats and Crime Stoppers of Cuyahoga County. She continues to work as a producer and editor on music videos and documentaries.

Olivia has a passion for teaching and learning. Whether assisting students in the print lab or loaning out equipment from the cage, she hopes to enrich each student's educational experience at Tri-C.