HESI Entrance Exam
What is the HESI A2?
The Health Education System Inc. (HESI) Admission Assessment (A2) Exam  is a computerized 4-hour timed exam that is part of the application process for entry into either the Associate Degree Nursing Program or the Practical Nursing Certificate Program.
What are the HESI A2 Requirements for Admission?
Students must achieve a minimum score of 75 percent on the Math and English sections for consideration for either program.
***Please be aware that the English portion contains three sections: Reading Comprehension, Grammar and Vocabulary. You must complete all three of these sections for your English score to count. 
***The HESI A2 Exam can only be taken once per month, and no more than twice within a 12 month period.
How do I prepare for the HESI A2 Exam?
HESI A2 exam review books are available in libraries and bookstores on the Eastern, Metropolitan, West and Westshore campuses to assist with your preparation for the exam. Study guides are also available for purchase online .
Registration Steps for the HESI A2 Exam
Students have the option to take the exam at a Prometrics testing site (approximate cost $100) or at the Metro Campus Manufacturing Technology Center (approximate cost $85) at any time during the application process.
You will receive immediate results for your HESI A2 exam. However, Tri-C nursing will not have access to your scores for a minimum of 4-6 weeks. Once the nursing division receives the scores, you will receive an email from the department providing you with information regarding your status in the application process.
*Please carefully follow the instructions below to register for the exam
1. Create an Evolve student account
To register for your Elsevier HESI A2 exam, you will first need an Evolve student account. If you do not have an Evolve account, you can create an account here.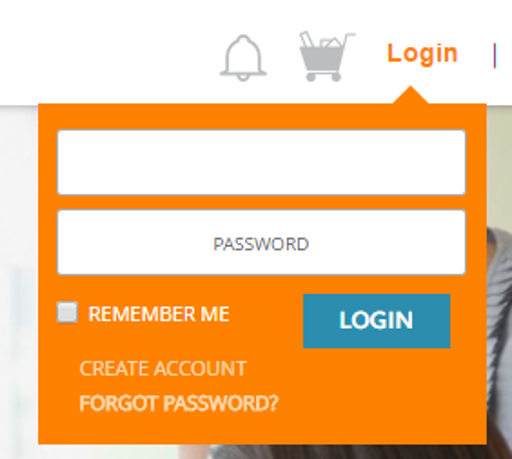 Complete personal and institution information. You must include your Tri-C student ID number when creating your Evolve account, as shown below. 

**If you have any problems creating your Evolve account, please call Elsevier student support at 1-800-222-9570 or live chat here.
2. Register for your HESI A2 Exam – Choose 1 of the options below
Option 1 – Onsite Testing at Tri-C Metro Campus
**For any students with a documented disability requiring accomodations, please contact Lauren Kuhn at the ACCESS office. She can be reached by phone at 216-987-5001 or by email at Lauren.kuhn@tri-c.edu 
Option #2 – Offsite testing at Prometric Testing Center
Cost of exam is $100, paid at the time of registration
Log into your Evolve account and click the icon below, titled HESI Assessment Student Access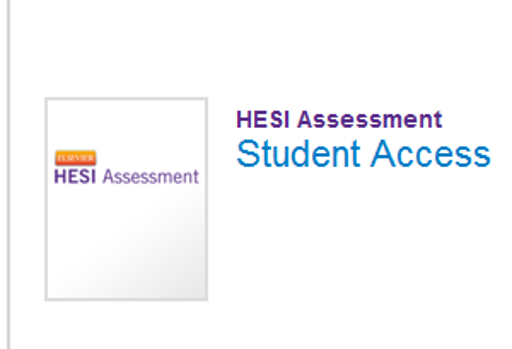 Click on Distance Testing tab > Register for a Distance Exam

Complete the required information below, check box and click the submit button in the bottom right-hand corner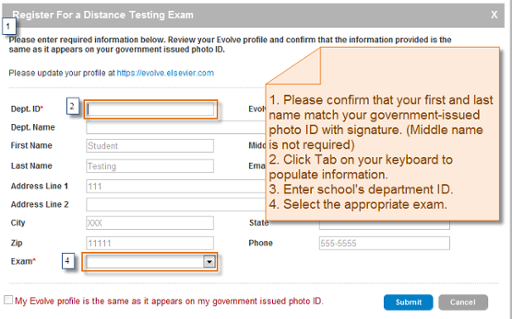 CUYAHOGA COMMUNITY COLLEGE-ADN-DISTANCE TESTING Dept. ID: 198278
*IMPORTANT INFORMATION:
The first and last name on your Evolve account must be the same as it appears on your government-issued photo ID with signature (e.g. driver's license or passport). You will not be admitted into the testing lab if there is any discrepancy between what is listed on your Evolve student account and what is presented on your ID. Your middle name/initial is not required.
You will receive an email confirmation notice indicating that you may schedule your exam. Please carefully review the information contained in your confirmation notice. If your name is not correct or has been changed, please contact Elsevier HESI Assessment at exameligibility@elsevier.com. Failure to do so could result in forfeiture of your testing appointment and associated fees.
Please note:
You will receive your eligibility ID within 1-3 business days from our receipt of your eligibility request. Please add the following email address to your email's safe sender list to avoid delays:
exameligibility@elsevier.com
If you do not see the notification, please check your spam/junk folder.