Western Campus hosts DSANEO's 23rd annual Northeast Ohio Buddy Walk
Event takes place Aug. 5 to support individuals with Down syndrome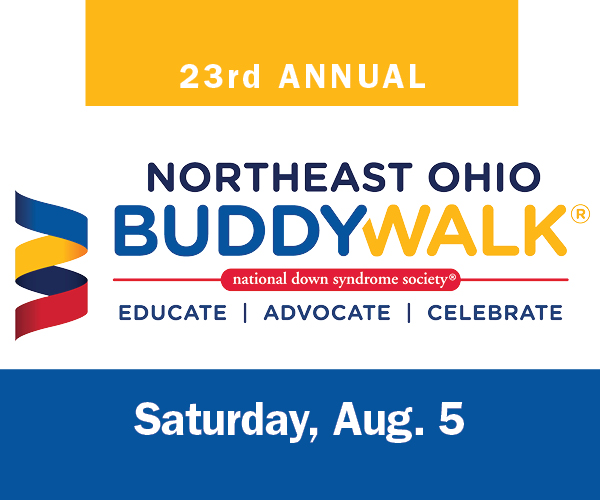 The 2023 Northeast Ohio Buddy Walk®, hosted by the Down Syndrome Association of Northeast Ohio (DSANEO), will take place on Saturday, Aug. 5 on the Western Campus of Cuyahoga Community College (Tri-C®). Attendees can participate in a 1-mile walk through the scenic Western Campus in Parma, followed by live entertainment, an obstacle course, outdoor games, crafting and more fun activities for all ages. More than 2,000 people typically attend the Northeast Ohio Buddy Walk to celebrate and support individuals with Down syndrome.
"We are so excited to be able to host this event on Western Campus," said Lisa Williams, president of the Western Campus. "Tri-C has always emphasized the importance of engaging with our communities, but the Buddy Walk is an especially wonderful opportunity to bring people together to support the important work of DSANEO."
The event takes place from 7:30 a.m. to noon. Attendees can grab coffee, tailgate and pick up their Buddy Walk T-shirts beginning at 7:30 a.m. Opening ceremonies will kick off at 9:15 a.m., hosted by Fox 8 News anchor Gabe Spiegel. The walk begins at 10 a.m., with post-walk celebrations at 11 a.m.
Attendees can participate in the walk in person or virtually. You can register as an individual, start your own team or join an existing team. Registration is $21 per person and free for individuals with Down syndrome.
The Buddy Walk is DSANEO's largest fundraiser. Proceeds from this event help DSANEO provide social programming, family grants, new and expectant parent support, educational enrichment, medical outreach initiatives and services for families who care for a loved one with Down syndrome. DSANEO is a 501(c)(3) nonprofit organization with a mission to provide support, education and advocacy for individuals with Down syndrome, their families and communities. If you can't participate in the walk but would like to support DSANEO's mission, you can make a donation on the DSANEO website.
August 01, 2023
MEDIA CONTACT: Anthony Moujaes, 216-987-3068 or anthony.moujaes@tri-c.edu