Two Tri-C Students Receive Art Awards in International Competition
Dmytro Hunchak and H. Maria Armijo were honored at League for Innovation International Student Art Awards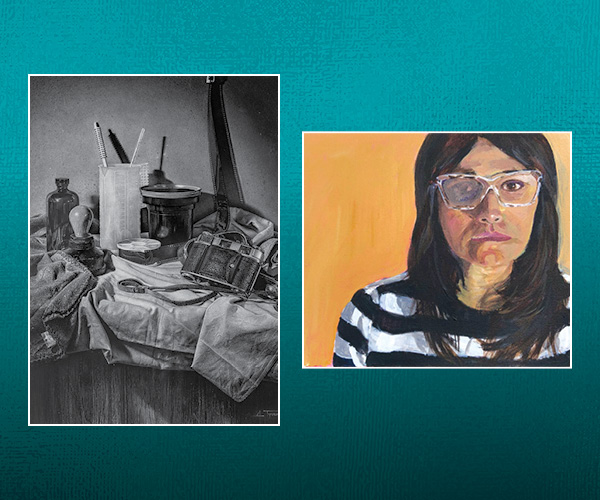 Two Cuyahoga Community College (Tri-C®) students were honored during the 37th annual League for Innovation International Student Art Awards, which highlights the best artwork by community college students in North America.
Dmytro Hunchak, a Parma resident, won a Juror's Choice award for his drawing, "Black White." H. Maria Armijo, of Mentor, won an honorable mention for her painting, "The Gaze."
The League for Innovation in the Community College is an international nonprofit organization dedicated to cultivating innovation in the community college environment. Tri-C hosted the 2022-2023 competition, which was judged by artists, nonprofit executives and faculty. Students representing 15 colleges competed.
Hunchak's "Black White" is a 24x18-inch charcoal rendering of his Kodak Retina IIIc camera, inspired by its gadgetry and design.
Armijo created "The Gaze," an 11x14-inch acrylic on canvas, as a confrontation and challenge to sustain her own gaze and invite viewers of the piece to do the same.
Five Tri-C students competed in the League for Innovation International Student Art Awards:
Hunchak
Armijo
Virginia Dickson, of Cleveland Heights
Gabrielle Alicia Lawrence, of Berea
Mahnaz Rastgoumoghaddam, of Rocky River
Their artwork will be included in a competition catalog featuring every selected entry.
June 23, 2023
MEDIA CONTACT: Anthony Moujaes, 216-987-3068 or anthony.moujaes@tri-c.edu