Triceratops Men's Basketball Team Aims for Fast-Paced Game
Team returns to action under first-year coach Aaron Nixon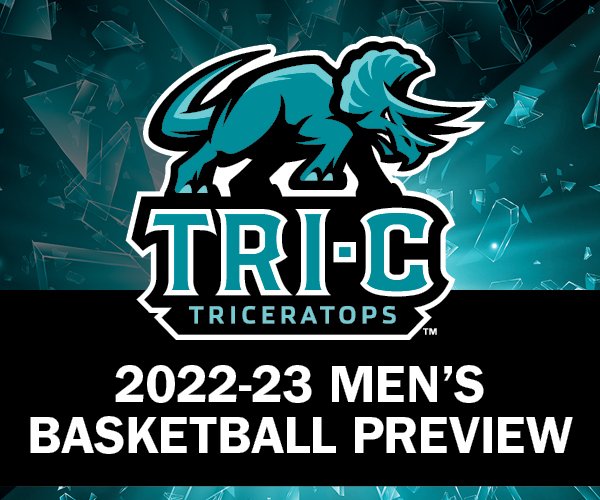 As the Cuyahoga Community College (Tri-C®) men's basketball team begins the 2022-2023 season, head coach Aaron Nixon claims he doesn't feel pressure.
But when the Triceratops lace their shoes and step onto the hardwood for the first time since 2020, history will be watching.
Basketball is a showcase sport at Tri-C — the men's program has regularly fielded winning teams, and it claimed the NCJAA Division II championship in 2004.
Nixon's own father was an all-American who played for the College from 1970 to 1972 and went on to play Division I ball.
"The historical factors of Tri-C, I know them personally. My dad had an all-American flag hanging up with Cuyahoga Community College on it," Nixon said.
And yet, he is sanguine. For Nixon, comparison is the thief of joy — and his ambition simply is for his players to be the best they can be.
By all accounts, the team is ready.
"We're very athletic," Nixon said. "We have good shooting, and we want to play a fast-paced game."
Nixon said the players have gotten more fit during practice and have come together as a competitive force. He cited their versatility around the court as the team's greatest asset and preaches an ethic of constant improvement on defense.
"They know what it takes to be college-level athletes. They know what the expectations are, and they're taking ownership of those expectations," he said.
Nixon predicts the team will finish in the top four of the Ohio Community College Athletic Conference but stresses that winning comes in many forms and from many factors.
"As long as we take care of the outside things — classwork, personal life — winning is going to happen," he said. "You have to be the best version of you."
The Triceratops open the season Nov. 1 at Erie Community College.
October 31, 2022
By Jarrod Zickefoose, 216-987-4750 or jarrod.zickefoose@tri-c.edu