Triceratops' Hill Named OCCAC Men's Basketball Player of the Week
Freshman point guard scores 60 points over three-game winning streak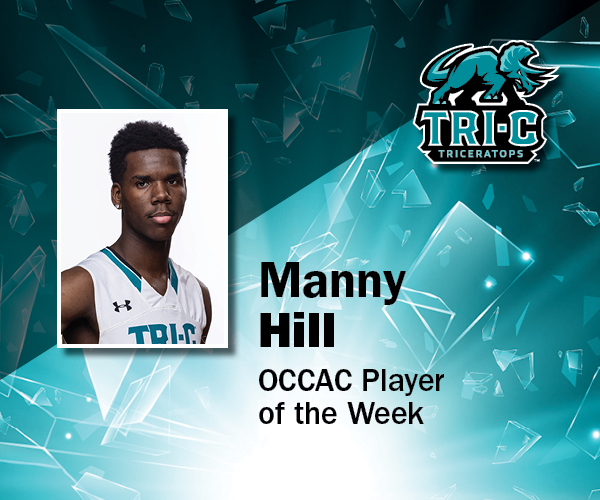 Cuyahoga Community College (Tri-C®) point guard Manny Hill was named Ohio Community College Athletic Conference Player of the Week for Jan. 9-15 in a sweeping first-place vote.
The first-time honoree averaged 20 points per game and buried almost 70% of his field goal attempts during Tri-C's 3-0 week.
Hill recorded a double-double with 25 points and 10 rebounds and added four steals in the Triceratops' 101-92 overtime win against the Erie Community College Kats on Jan. 9.
Hill scored 19 points, grabbed seven rebounds and added three steals and three assists when the team topped the Bryant & Stratton Bobcats 106-93 on Jan. 11. The Triceratops grabbed their third win of the week on Jan. 16 with a 100-73 victory over the Edison Community College Chargers. Hill put down 16 points, with eight rebounds and another three steals and three assists.
The freshman from Cleveland averages 12.9 points per game for the Triceratops (14-3) this season. He currently ranks first in the conference's field goal percentage at 60.9%.
January 18, 2023
By Noelle Bye, 216-987-4747 or noelle.bye@tri-c.edu