Triceratops' Haid Named OCCAC Men's Basketball Player of the Week
Freshman swingman leads Triceratops to two victories with 54 total points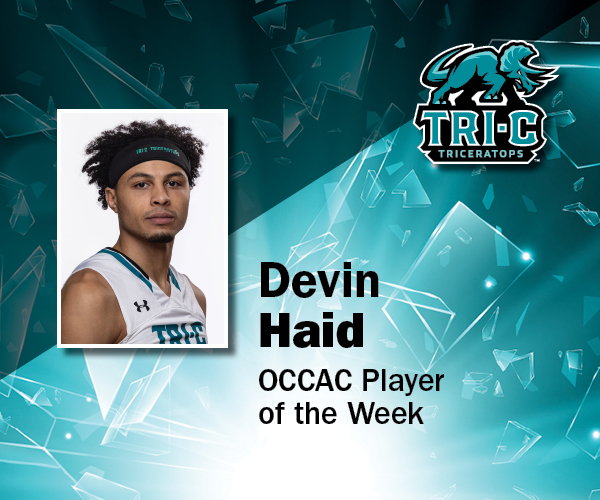 Cuyahoga Community College (Tri-C®) swingman Devin Haid gathered unanimous votes for Ohio Community College Athletic Conference Player of the Week for Jan. 23-29.
The first-time honoree racked up a whopping 54 points between the Triceratops' wins over Jamestown Community College (JCC) on Jan. 23 and Clark State College (CSC) on Jan 28.
Shooting nearly 70% from the floor between the two games and knocking down all 11 foul shots, Haid led the team with 27 points in its narrow 76-74 victory against the JCC Jayhawks, adding six rebounds and two assists.
Haid topped the scoreboard again in the Triceratops' 115-91 win over the CSC Eagles, putting down 29 points and grabbing three rebounds and six assists.
The freshman from Wooster averages 19.8 points per game for the Triceratops (17-4) and is tied for second in scoring in the conference.
January 31, 2023
By Noelle Bye, 216-987-4747 or anthony.moujaes@tri-c.edu