Triceratops Ballplayers Keep Trampling Opposing Pitchers
Dominick Bucko and Meghan Mulhan honored by conference … again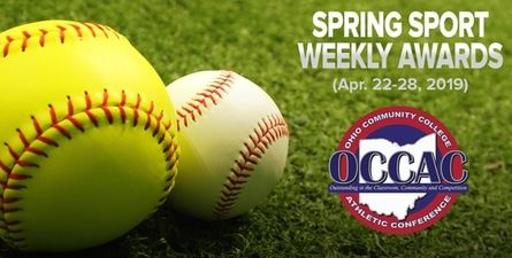 Another week, another round of honors for Cuyahoga Community College (Tri-C®) baseball and softball players.
Tri-C's Dominick Bucko and Megan Mulhan claimed Player of the Week awards from the Ohio Community College Athletic Conference after hammering opposing pitchers in games played April 22-28.
Bucko batted .565 (13-23) with three home runs, two triples and two doubles in eight games. The outfielder also scored 13 runs and added 16 RBI while powering the Triceratops to seven wins.
This is his third OCCAC Player of the Week award in what has been a torrid month at the plate. The sophomore from Saxonburg, Pennsylvania, is working toward an Associate of Arts degree at Tri-C.
Mulhan smacked four doubles, a triple and a home run while hitting .571 in eight games during the week. The catcher's stat line also included 14 RBI, nine runs scored and a pair of steals while on the basepaths.
She is a two-time Player of the Week winner after claiming the award in March. Tri-C softball players have won the weekly conference award the past six weeks.
Mulhan, a sophomore from Brunswick, is studying business and human resource management.
April 30, 2019
John Horton, 216-987-4281 john.horton@tri-c.edu