Tri-C's Westshore Campus Earns Second LEED Certification
New building at Westlake site honored by the U.S. Green Building Council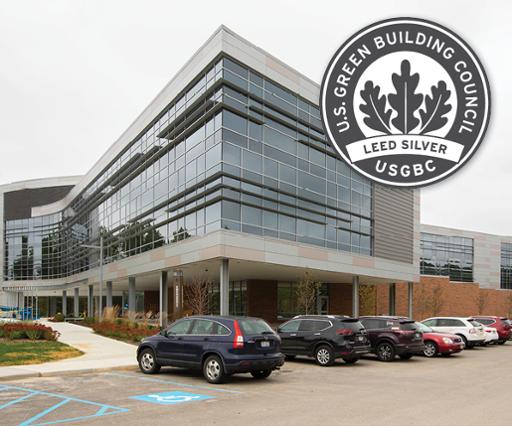 Cuyahoga Community College (Tri-C®) earned a LEED® Silver certification from the U.S. Green Building Council for the new Liberal Arts and Technology building at Westshore Campus. 
LEED certification is a nationally recognized benchmark for the design, construction and operation of high-performance green buildings. This is the College's seventh building with a LEED designation. 
Westshore's Health Careers and Sciences building previously earned a LEED Gold designation after opening a decade ago. Development of the campus along Clemens Road in Westlake coincided with the College's creation of a sustainability plan. 
"The notion of 'building green' has guided Westshore Campus since Day One," said David November, the College's sustainability manager. "In many ways, this campus represents the robust sustainability standards that Tri-C now brings to every project." 
The Liberal Arts and Technology building opened in September 2019 along Clemens Road in Westlake. The new building added more than 90,000 square feet of academic space to campus, including 30 classrooms and labs and numerous student support services. 
Sustainability highlights of the new building include:
A more than 36% reduction in typical energy use due to LED lighting and efficient heating and cooling systems, bringing an estimated annual savings of $30,000
Equipment and plumbing fixtures designed to save more than 650,000 gallons of water per year — the equivalent of 16,000 filled bathtubs
A stormwater plan that reduces the quantity and improves the quality of runoff
An emphasis on using local and recycled materials during construction
Establishment of a "green cleaning" policy and program 
The College also diverted 89% of construction waste from landfills through sorting and recycling during the 18-month project. Tri-C collaborated with Moody Nolan architects and Donley's construction on the building. 
The new building at Westshore joins a growing list of Tri-C sites awarded LEED certification.  Green buildings and grounds serve as key components of the College's efforts to reduce its environmental impact.
February 04, 2021
John Horton, 216-987-4281 john.horton@tri-c.edu