Tri-C's Mobile Unit an Example of Innovative Manufacturing Training
Unit highlighted in Industry Week column about improving talent pipeline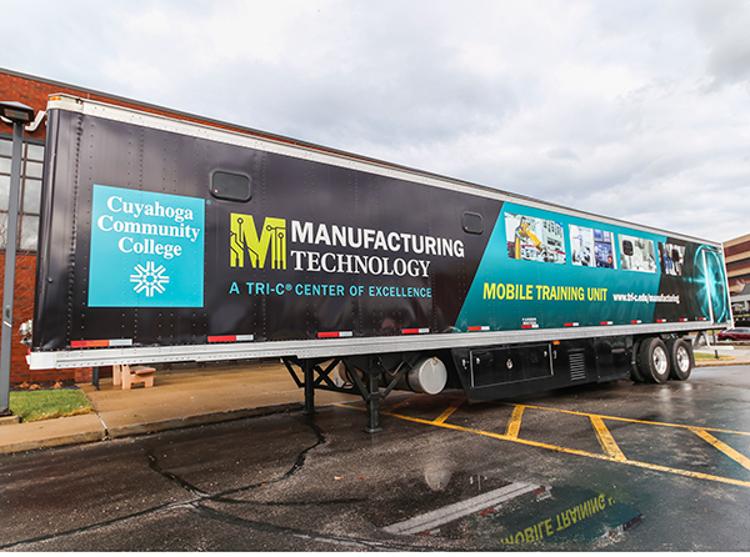 The manufacturing talent gap has been an ongoing nationwide issue for more than a decade, holding the entire sector back from reaching its full potential.

In a recent Industry Week column, co-authors Ethan Karp and Jessica Borza note that half a million factory jobs remain unfilled despite U.S. manufacturing activity hitting a 37-year high this spring. In Northeast Ohio, 8,000 manufacturing jobs remain open — a deficit that, if filled, could add $5 billion annually to the local economy.

Karp is president and CEO of the Manufacturing Advocacy and Growth Network. Borza is executive director of the Mahoning Valley Manufacturers Coalition.

Strategies for filling the talent gap are complex and multifaceted, but improved access to training is an important aspect. Karp and Borza highlight Tri-C's Manufacturing Technology Center — specifically, the center's Mobile Training Unit — as an example of innovation in providing increased access to manufacturing training.

"Community colleges have a long history of forming cutting-edge partnerships with manufacturers to provide innovative, flexible and affordable training — training that businesses, looking to close the skills gap, need more than ever," Karp and Borza write.

"Cuyahoga Community College's Manufacturing Technology Center of Excellence, for instance, brings its mobile training unit in a 53-foot-long trailer right to the doorsteps of local companies and schools."

Click here to read the full column.
July 27, 2021
Erik Cassano, 216-987-3577 or erik.cassano@tri-c.edu