Tri-C's Kylie Cianciolo Named a National Coca-Cola Scholar
Fairview Park resident is among 150 students honored across the country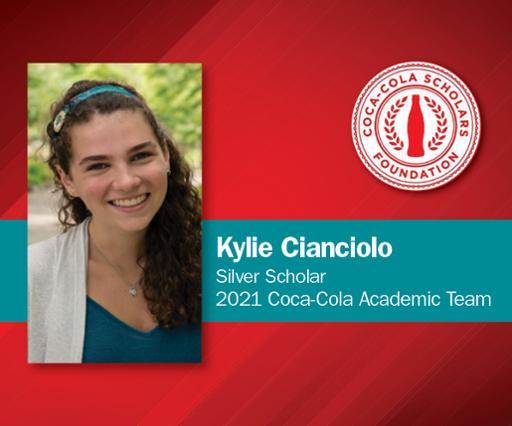 Cuyahoga Community College (Tri-C®) student Kylie Cianciolo has been named a 2021 Coca-Cola Academic Team Silver Scholar, joining a select group of students from across the nation. 
Cianciolo is set to graduate from Tri-C in May with two degrees — an Associate of Arts and an Associate of Science. She was named Westshore Campus Student of the Year in 2020. 
She also served as a student ambassador at the campus, worked as an intern and completed the Student Leadership Certificate Program. Her grades earned her membership in Phi Theta Kappa Honor Society. 
The Fairview Park resident intends to continue her studies in the fall at a four-year school, where she will focus on special education and psychology. 
As a Coca-Cola Silver Scholar, Cianciolo will receive a $1,250 scholarship in addition to a commemorative medallion. She and other team members will be recognized at upcoming ceremonies. 
The Coca-Cola Scholars Foundation sponsors the Coca-Cola Academic Team program by recognizing 50 Gold, 50 Silver and 50 Bronze Scholars with nearly $200,000 in scholarships annually. 
Students are nominated for the academic team by their college administrators. Selection is based on academic achievement, leadership and engagement in college and community service. 
Cianciolo was one of three Tri-C students named to the 2021 Coca-Cola Academic Team. She was joined by Charese Harrison of Maple Heights and Isabel Ruiz-Flint of Solon.
March 16, 2021
John Horton, 216-987-4281 john.horton@tri-c.edu