Tri-C's Isabel Ruiz-Flint Honored as National Coca-Cola Scholar
Solon resident is among 150 students honored across the country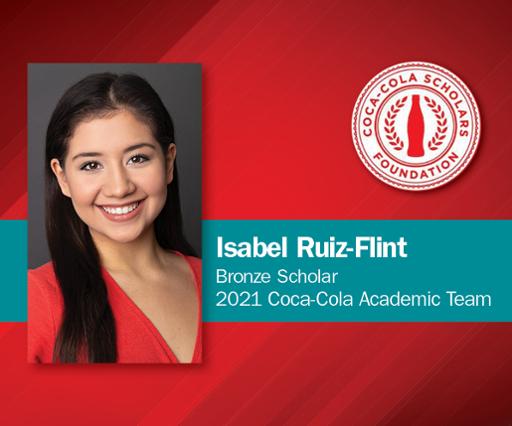 Cuyahoga Community College (Tri-C®) student Isabel Ruiz-Flint has been named a 2021 Coca-Cola Academic Team Bronze Scholar, joining a select group of academic high achievers from across the nation. 
Ruiz-Flint, a senior at Solon High School, graduated from Tri-C in December with a flawless 4.0 GPA and an Associate of Arts degree. She attended Tri-C through the state's College Credit Plus dual enrollment program. 
Her grades earned her membership in Phi Theta Kappa Honor Society. She balanced a full class schedule with pageant competitions. In 2019, she won the North American Miss junior teen title. 
Ruiz-Flint plans to transfer to a four-year school in the fall to study public relations. 
As a Coca-Cola Bronze Scholar, Ruiz-Flint will receive a $1,000 scholarship in addition to a commemorative medallion. She and other team members will be recognized at upcoming ceremonies. 
The Coca-Cola Scholars Foundation sponsors the Coca-Cola Academic Team program by recognizing 50 Gold, 50 Silver and 50 Bronze Scholars with nearly $200,000 in scholarships annually. 
Students are nominated for the academic team by their college administrators. Selection is based on academic achievement, leadership and engagement in college and community service. 
Ruiz-Flint was one of three Tri-C students named to the 2021 Coca-Cola Academic Team. She was joined by Kylie Cianciolo of Fairview Park and Charese Harrison of Maple Heights.
March 16, 2021
John Horton, 216-987-4281 john.horton@tri-c.edu