Tri-C's Degree in Three Program Means More Graduates
Six-year study shows more support for lower-income students yields higher graduation rate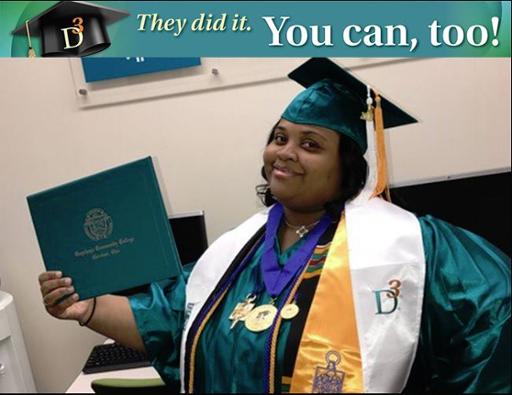 More students at Cuyahoga Community College (Tri-C®) have donned graduation caps in the past six years thanks to a program supporting low-income students.
Tri-C implemented its Degree in Three (D3) program, based on the City University of New York's Accelerated Study in Associate Programs (ASAP), in 2014. ASAP gives students "up to three years of financial, academic and personal support and services that address multiple barriers to student success," according to a report from MDRC, a nonprofit organization that evaluates educational programs.
With support from Arnold Ventures, MDRC conducted a six-year study of three Ohio community colleges that developed models based on ASAP. Findings show that Tri-C, along with Lorain County Community College and Cincinnati State Technical and Community College, has increased its graduation rate by 50%.
D3 provides qualifying Tri-C students with financial assistance for tuition and textbooks; enhanced advising, tutoring and career development services; and gift cards for gas and groceries.
"Student participants at Tri-C often voiced the significance of the wraparound services and personal support they received ― it was the difference between dropping out or finishing their educational goals," said Miria Batig, associate dean of Health Careers and Sciences at Tri-C's Western Campus and former D3 program director. "And the earnings data demonstrates the program's continued impact on the community and workforce needs of the area."
Read more about the study and Tri-C's Degree in Three program in these articles from Crain's Cleveland Business (subscription required) and Signal Cleveland.
April 20, 2023
By Noelle Bye, 216-987-4747 or noelle.bye@tri-c.edu