Tri-C Women's Basketball Has Family Feel
First-year coach, Tri-C grad Omar Williams confident in deep roster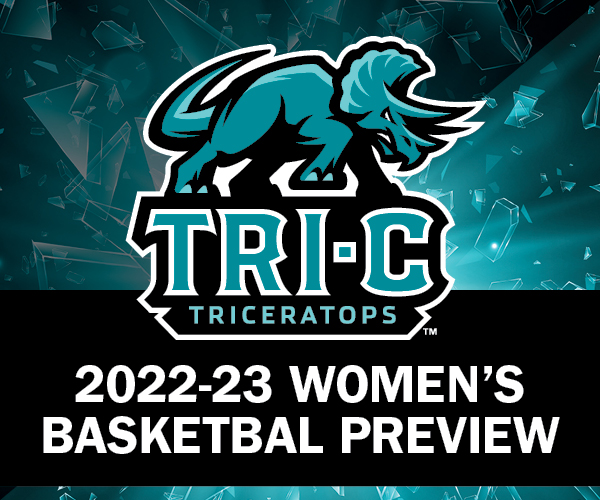 The mantra for the 2022-2023 Cuyahoga Community College (Tri-C®) women's basketball team is simple, yet direct: Get better every day.
First-year coach Omar Williams has a squad of mainly new players. The team has meshed together fast for an aggressive style of offense and defense. Three players are from the same high school, others have played together on travel teams, and a set of twin sisters round out the roster.
"Getting that chemistry down as quickly as we did makes everything easier going forward," Williams said. "We have players who established themselves as leaders willing to work on their own before practice… We've done a great job as coaches and players of creating a family environment."
A Tri-C graduate with coaching experience in the Ohio Community College Athletic Conference, Williams was hired in January after stints as an assistant coach at Bryant and Stratton College and Lakeland Community College. After a two-year hiatus due to the pandemic, Williams is pushing teamwork and drive as the Triceratops return to the court.
"From Day One, our goal is to come in and win the conference," Williams said. "We're not looking at taking baby steps. We're coming in to win basketball games because we feel like we have the talent and depth to compete. It's just a matter of getting better every day."
Williams looks for players who are strong academically, hard-working, multi-sport athletes and coachable.
"Whatever happens in the day, you take the lesson, positive or negative, and use that to get better and push yourself to be better the next day," Williams said. "Our young ladies have done that every day."
With 16 players on the roster, Williams believes there's enough talent on the bench to handle injuries and fatigue — physical and mental — during a 30 to 40-game season. Players have been hitting the weight room, working on their strength and conditioning to minimize injuries.
"The biggest thing for us, especially with a majority of first-year players, is the workload of school and athletics playing 30 games, compared to the 20 to 25 they were used to in high school, and being away from home," Williams said.
The Triceratops have impact players at multiple positions in the lineup: 
Quimari Shelton (Akron Kenmore-Garfield) is a versatile player who brings energy to both ends of the floor.
Briana Bunkley (Akron Kenmore-Garfield) can be a lights-out shooter at point guard.
Twin sisters Ashley and Briona Little (Glenville) are both lockdown defenders.
Destiny Mongo (Lutheran East) is the veteran of the group and is strong in the paint, who can help younger players understand the travel and mental aspects of the season.
Marybella Dunlap (Nordonia) can play multiple positions and is the vocal leader of the group.
"Our roster could have a different impact player every night," Williams said.
The Triceratops open the season Nov. 1 against Erie Community College in Buffalo. Their home opener is Nov. 12 against Community College of Beaver County. Catch home games on Eastern Campus at 4250 Richmond Rd., Highland Hills. Admission is free.
View the full schedule on the Tri-C Athletics website.
November 01, 2022
By Anthony Moujaes, 216-987-3068 or anthony.moujaes@tri-c.edu